Vauxhall to reveal Zafira Tourer Concept in Geneva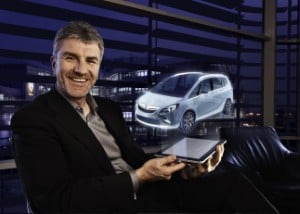 The Zafira Tourer Concept will form the centrepiece of Vauxhall's stand at the Geneva Motor Show, it has been revealed.

According to the company, the model will be a flexible, luxury choice that competes with other vehicles in the range.

Mark Adams, Vauxhall vice-president of design, said the Zafira Tourer Concept has been designed to act like a "lounge on wheels".

"We have transferred the idea of a relaxing lounge to a vehicle and created an automobile oasis, a place to relax and enjoy. The Zafira Tourer Concept's exterior design also makes a bold statement with its sleek, flowing lines," he stated.

Meanwhile, the Geneva Motor Show will also offer motorists the first glimpse of the production-ready Vauxhall Ampera ahead of its launch in early 2012, as well as the updated Antara range.

The Geneva Motor Show will run from March 3rd to 13th.

Official photos and information of the Zafira Tourer Concept will be made available on Friday (February 25th).