Volvo's S90 and V90 Models Will Run On Air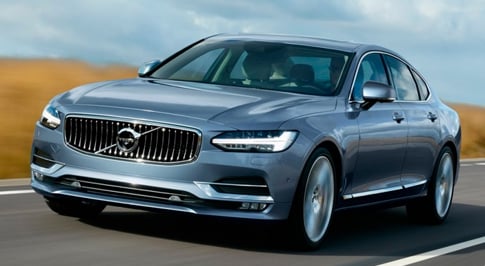 Volvo has released new details for its upcoming exec saloon and wagon siblings, the S90 and the V90.
The cars have been fitted with D5 four-cylinder turbodiesel engines, which come with a compressed air tank, titled 'Powerpulse', and it is an impressive bit of tech. Volvo have shed some light on how the air-powered engine works. When the driver presses the accelerator, compressed air is released to spin up the turbocharger quicker than exhaust gases, vastly reducing turbo lag.
The 'Powerpulse' fitted engine delivers 232 horsepower with 354lb.ft of torque, with the D4 version boasting an impressive 64.2 miles to the gallon. The interiors include a nine inch touchscreen as standard, heated seats, pollution-filtering air conditioning, and plenty of leather. Also fitted as standard will be pedestrian and animal detection, autonomous cruise control, and robo-emergency brakes.