WIN 4x Festival Survival Kits!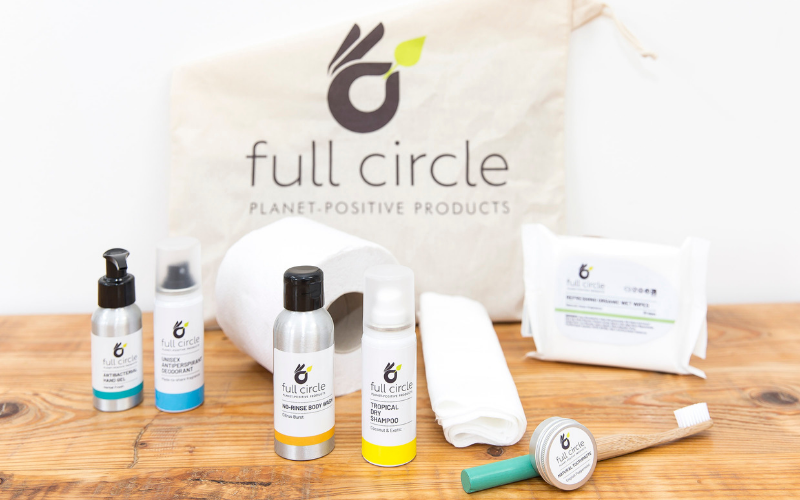 Our 0% Event is going so well, that we're feeling extra generous! As a 'thank you' to our wonderful supporters, we're going to be running a different giveaway every day until Monday - so watch this space!
It's Festival season! This one's for all you lovers of music, mud and mayhem!
What's the prize?
We're giving away 4 Full Circle Eco-Friendly Hygiene Packs - the perfect bit of eco-friendly kit to keep yourself clean and fresh when camping!
Each pack includes: Unisex antiperspirant in a recyclable aluminium can, Fresh Mint toothpaste in a zero-waste reusable aluminium pot, Biodegradable bamboo toothbrush, Alcohol hand gel in a zero-waste reusable aluminium bottle, No-rinse body wash in a zero-waste reusable aluminium bottle, Tropical dry shampoo in a recyclable aluminium can, Plastic-free biodegradable face-wipes, Biodegradable eco-towel, 100% recycled Eco-leaf toilet paper.
Everything is either reusable, biodegradable or recyclable.
How do you enter?
It really couldn't be easier! Just head over to our Facebook page and follow the instructions! You need to hurry though - it closes at 5:00pm TODAY (22nd June 2019), ready for tomorrows giveaway!
What's the 0% Event?
Between 14th and 25th June 2019, we're running a fantastic offer on Used Cars! You can get 0% apr for up to 5 years, don't have to pay a deposit, and can get cashback for your old car! Howzat for an amazing deal!? T&Cs apply.
Enter The Competition! Check Out The Event!