Welcome to Motornation Derby
Latest Stock at Motornation Derby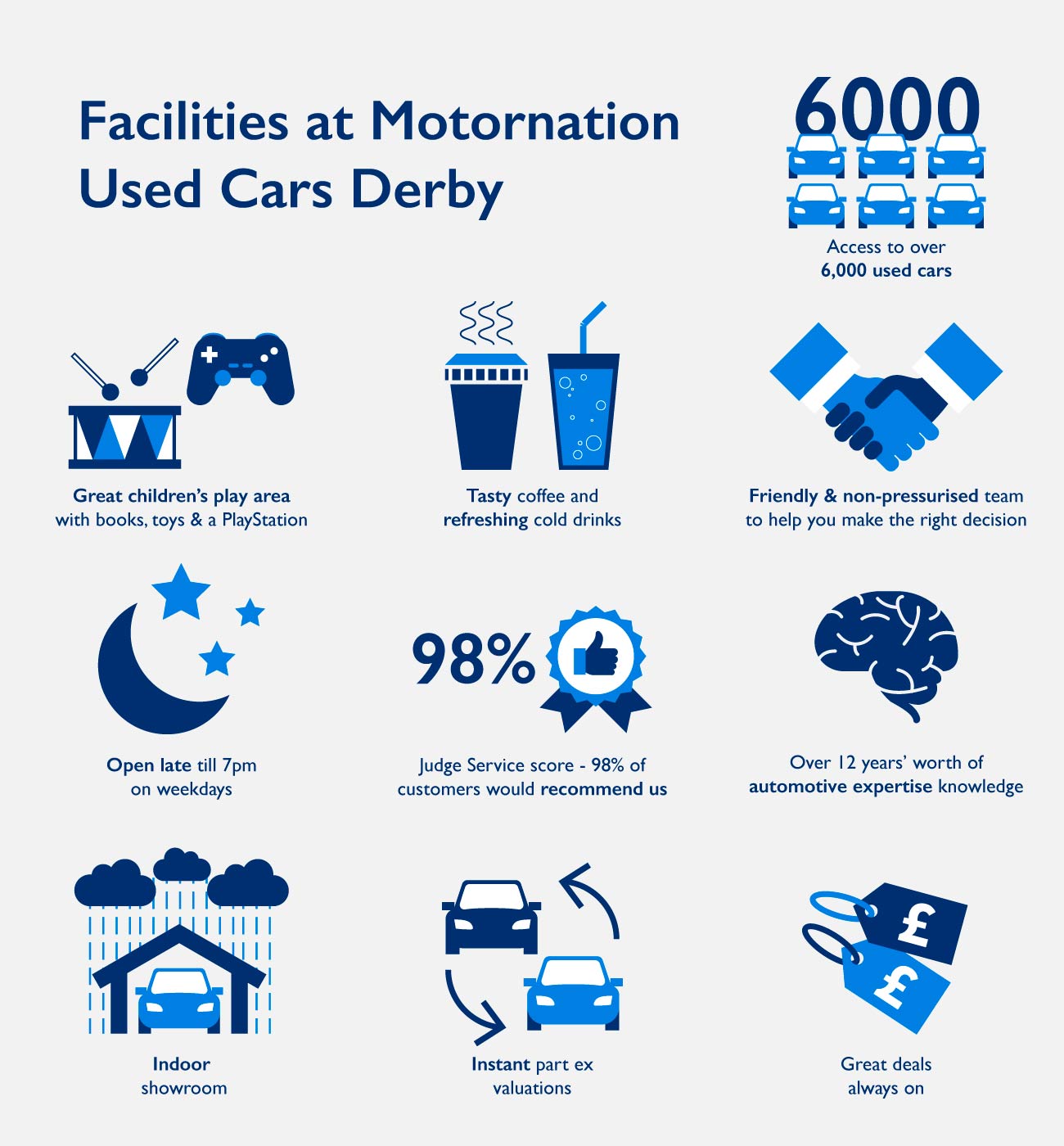 What our customers are saying at

Motornation Derby
An outstanding performance of customer service, very friendly, professional and no problem attitude.
Mr Loseli
Motornation Derby
I would just like to pass on the fantastic experience I had purchasing this car from your sales team.

There was no pressure when purchasing my car and I felt comfortable and relaxed when making a big decision.

Thanks!
D Butcher
Motornation Derby
Served by a gent and a credit to Bristol Street. Makes a decent coffee, works at a human level without the need to patronise his clients. First car purchase without feeling any undue pressure, top man.
D Pennington
Motornation Derby
Excellent service from start to the finish. Made things very easy and clear, and was a constant help throughout.
D Mahoney
Motornation Derby
As an Ex-Employee of Bristol Street when my wife decided she wanted a new car we knew exactly where to go whilst the 0% event was on. I now work for Audi and my wife wanted a Renault Captur. We did our research online and narrowed it down to 3 cars at Derby and then called and spoke to the sales executive who could not have been more helpful, walking round the cars on the forecourt to give me an accurate description of both condition and spec. We made our purchase on Saturday 15th and with the help of Vernon Harris who put the funding in place collected the car yesterday the 19th. We didn't see the car until our driver delivered it to me and my wife and just as I expected everything was as described all the paperwork was in order and she absolutely loves the car. Well done gentlemen I have a very happy wife. Thanks again and a pleasure doing business with you

W Riches
Motornation Derby
Looking for a used car dealer in Derby?
Looking for a used car in the Derby area? Bristol Street Motors Motornation has a huge range of used cars in Derby. With a range of used cars from manufacturers such as Ford, Vauxhall, Peugeot, Renault, Citroen and more, you're bound to find a car that's right for you. Our stock is regularly updated and of a consistent and high quality, so you can be sure that when you buy a used car from us, you're getting one of the best deals around. Plus, with a range of payment plans and finance options, you can drive away with a car whatever your budget.
As well as offering a wide range of used cars in all trim levels, colours, body styles and technical specifications, we also have the facilities needed to offer top quality aftersales and MOT servicing. Our mechanics and technicians all exhibit high quality workmanship, meaning that when you leave your car with us, you can be sure it's in capable hands. If you're unsure of any of the MOT, service plan or spare parts services we offer, then our mechanics will be happy to put your mind at ease and talk you through the options available to you.
Here at our Motornation dealership, we strive to have top customer service. When you visit our dealership, our knowledgeable and friendly staff will be on hand to help you with any questions you might have. So if you're looking for the best used cars in Derby, or want an MOT or servicing, come down to our dealership. You can find us on Sir Frank Whittle Way, easily accessible from the A51 and A62 near Chaddesden. Alternatively, you can book your MOT using our site, or give one of the team at Motornation a call. We hope to help you find a top quality used car soon.
*Home delivery on used cars is free if you live under 30 miles from the Bristol Street or Macklin Motors dealership where the vehicle is purchased. Any subsequent delivery cost is calculated at an additional £1 per mile over and above 30 miles.