5 Reasons Why We Love The New Nissan Juke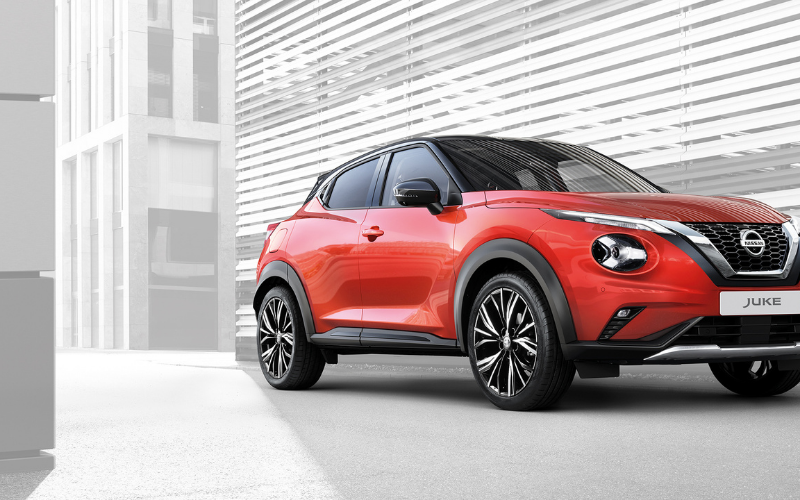 In this day and age, selecting the perfect car is no easy task. With so many factors to consider and each car being just as intriguing as the next, it can seem like an impossible decision. So... what makes the Nissan Juke so special?
Not only does this small SUV feature a cutting-edge design but it also features advanced technology and a sporty interior.
There are many reasons we love the Nissan Juke and here are just a few of them...
1. Sleek Style
The Juke design is bold and eye-catching due to its sharp lines, dramatic lights and fascinating design accents.
The sleek lines create streamlined aerodynamics that allows the Juke to slice through the air for fuel efficiency and a more tranquil drive.
Additionally, the new Juke features 19" alloy wheels and a distinctive floating roof.
Exclusive to the Tekna+ grade is a stunning range of exteriors with a bold two-tone design – make the Juke uniquely your own.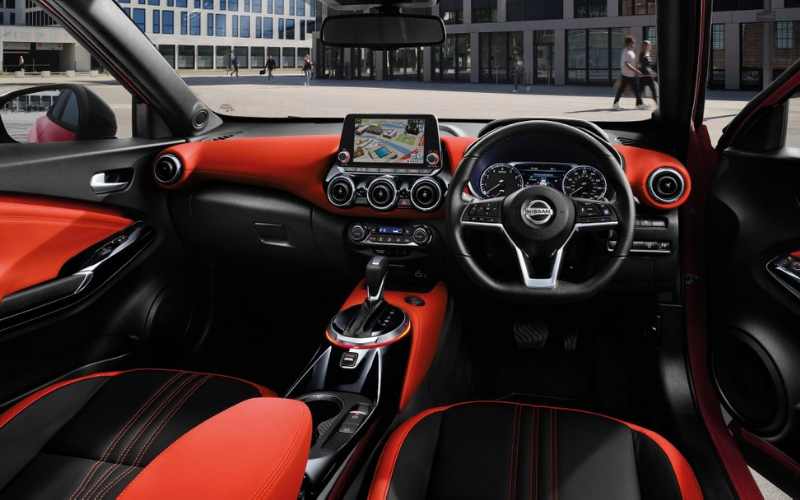 2. Sporty interior
Not only does the Juke but an impressive look on the outside, but the inside is just as equally captivating.
The interior possesses a quality finish and offers numerous customisation options to make the Juke your own.
Experience a sporty atmosphere, alongside advanced technology at the tips of your fingers.
Immerse yourself in the ultimate sound experience with the Bose Ultra Nearfield speakers that are built into the front headrests.
Feel every curve with the comfortable ergonomic monoform sporty seats that provide lasting support for both the driver and passengers.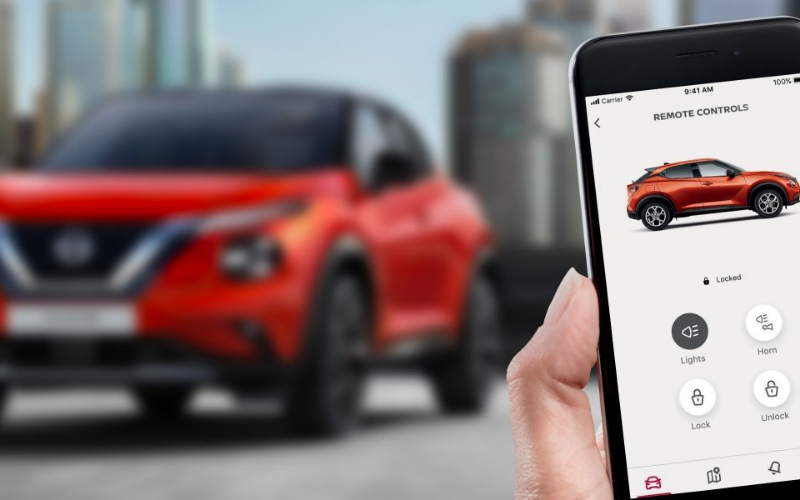 3. Stay Connected
Connect seamlessly to the digital world with NissanConnect technologies – all you need to do is plugin and access your compatible smartphone.
The NissanConnect Services App allows you to access many unique features of the Nissan Juke.
You'll be able to access a complete driving analysis, providing statistical information including number of trips, distance travelled, driving time and more.
You'll never lose your Juke in a carpark as you can also use the app to remotely flash the lights and sound the horn.
The Nissan Door to Door Navigation sends directions from your compatible smartphone directly to the Juke's touch-screen.
Even if you end up parking several blocks away, the Door-to-Door system is able to send a walking route to your phone.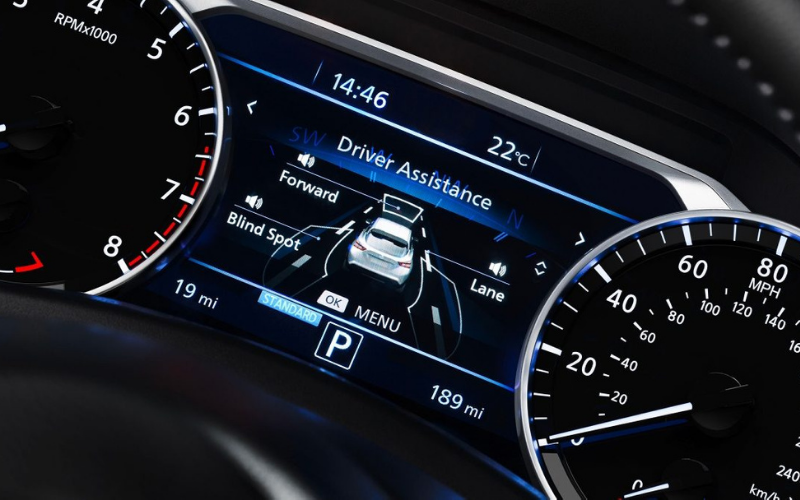 4. State-Of-The-Art Technology
The Juke's colour display lays all of the information you may need right out before your eyes in order to make each and every journey a smooth one.
Caller ID means you can easily send and receive calls from your Bluetooth-enabled phone, minimising time that is spent looking away from the road.
Turn-by-turn directions put your next move right in front of your eyes in order to help you reach your destination quicker and easier.
Stay safe with alerts from advanced safety features including Blind Spot Warning, Lane Keep Assist and Emergency Braking, which are displayed on the screen.
Nissan Intelligent Motability will allow you to feel more confident and excited, all whilst on the move – experience the future of driving.
Nissan ProPILOT will assist you with multiple driver assist technologies to take the stress out of driving and make your journey more enjoyable.
These include features like accelerating for you, braking for you and helping you to keep centred within your lane.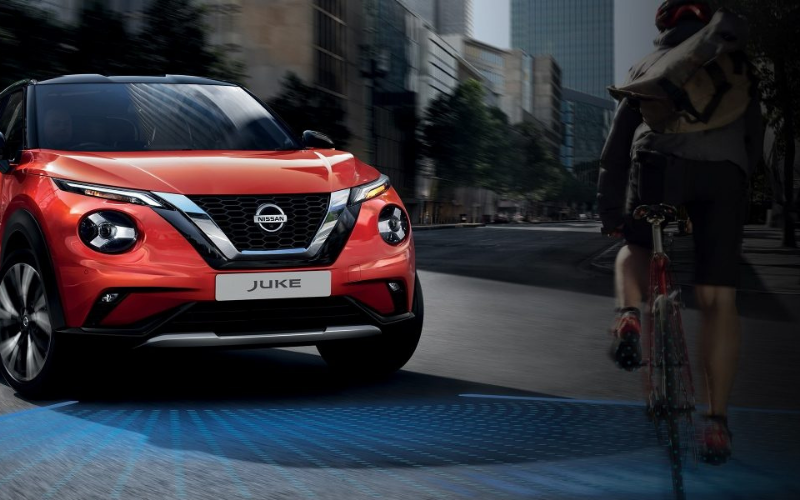 5. Super Safe
The Nissan Juke received a 5-star Euro NCAP rating from its 2019 tests.
From reading road signs to spotting vehicles in your blind spot – the Next Generation Juke is looking out for you.
The Intelligent Emergency Braking With Pedestrian And Cyclist Recognition includes multiple functions to keep you and other road users extra safe. These include automatically engaging the brakes in order to avoid or lessen the severity of a possible frontal collision and can also assist in responding if it detects someone on the pedestrian crossing or a cyclist in your path.
High Beam Assist allows you to see clearly at night, whilst also taking other road users into consideration and switches to low-beam headlights when it detects a vehicle ahead.
Traffic Sign Recognition allows you to keep up to date with speed limits by detecting road signs as you go.
Intelligent Driver Alertness monitors your steering patterns and will alert you if it detects that you may be getting drowsy and need a break.
These are just a few of the reasons the Nissan Juke is so great, but rest assured there are many more!
Why not take a look at the extensive range of new Nissan Jukes deals we have available on our website?