Alfa Romeo MiTo now comes with TwinAir technology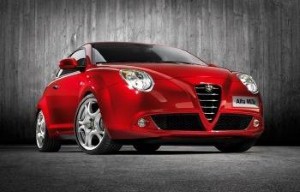 Italian carmaker Alfa Romeo could have another UK hit on its hands after making the already-popular MiTo available with its innovative TwinAir technology.

Indeed, the manufacturer has announced that the MiTo is now available with the TwinAir 875cc twin-cylinder, 85hp turbo engine, which boasts electro-hydraulic valve control technology.

Damien Dally, head of brand at Alfa Romeo UK, commented: "The Alfa MiTo TwinAir is an intelligent response to modern driving requirements - premium styling, a sporty and engaging driving experience, combined with outstanding ecological and financial benefits.

"It's the last word in automotive engineering in terms of technology, performance and environmental consideration."

As well as boasting a sporty exterior and impressive ride, the MiTo will also appeal to eco-conscious motorists as it offers sub 100g/km CO2 emissions and offers 67.3 mpg, making it the cleanest and most economical car in its class.

With a five-year warranty now available and petrol engine performance with diesel engine efficiency, Alfa believes it has created the "perfect urban driving" machine.

"The introduction of the two-cylinder TwinAir engine into the Alfa MiTo range reinforces the MiTo's image as a high-tech, sporty, compact car offering maximum driving pleasure whilst exceeding driver expectations," the firm added.

To mark the launch of the latest edition to its MiTo line-up, Alfa has also released a new colour, with drivers looking for new car deals able to choose Ametista Black - a dark metallic colour with a distinctive purple hue.

Meanwhile, Fiat recently announced that it is working alongside Japanese car giant Mazda on a new version of the MX-5 roadster.

Two final versions of the car will eventually be produced, one carrying the Mazda badge and the other falling under the Alfa Rome umbrella.

Takashi Yamanouchi, Mazda's representative director, chairman of the board, president and chief executive officer, said of the deal: "It is especially exciting to be collaborating with such a prestigious marque as Alfa Romeo on a new roadster based on the next-generation MX-5."

It marks something of a coup for Alfa, as the MX-5 is recognised as the best-selling roadster of all time.