Bristol Street Motors Supports Orpington School's Fundraising Parents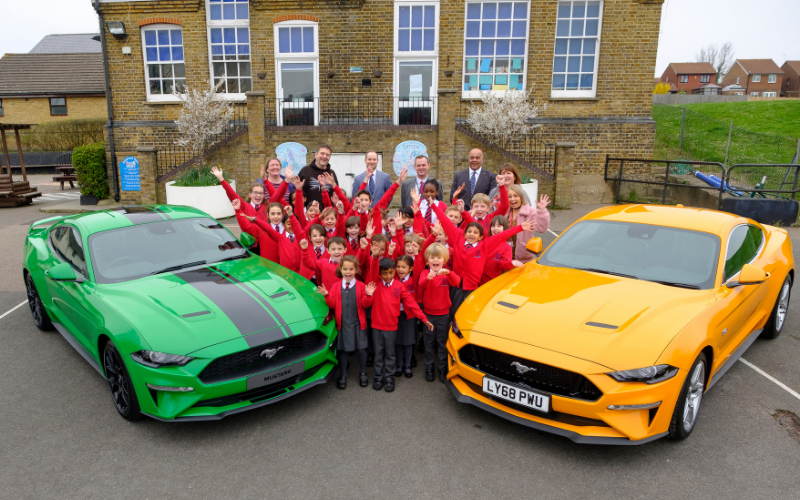 Bristol Street Motors Orpington Ford is supporting the Parents and Friends Association (PFA) of Holy Innocents' Catholic Primary School with its fundraising to help provide extra resources for the local school.
The Green Street Green dealership has donated £2,000 to the PFA to kickstart fundraising for 2019 and support a number of events throughout the year that boost the money raised, including movie nights, discos and Summer and Christmas fairs.
As part of the agreement, school sports kits will bear the dealership's name and members of the team will attend various school events, including the Summer and Christmas fairs to showcase a selection of the cars available at the dealership. In addition, parents with children attending the school will be offered exclusive deals and discounts.
In 2018 the PFA, which is a registered charity and was founded in 1996, donated more than £12,000 to support the educational attainment of the children, by providing new learning tools, resources and equipment. Its contributions include a wide range of support, including the installation of a Trim Trail, which has been a real hit with the children who love swinging from the monkey bars and encourages them to be active during break times; a donation of £3,000 to help subsidise extra-curricular and educational school trips and providing five Oyster cards to enable parents who accompany children on school trips to travel for free and additionally, the provision of iPads as well as paying for refurbishments to the school hall.
The dealership prides itself on being part of the local community
The diverse school educates more than 200 local children aged between four and 11 years, from a wide catchment area, reaching from Orpington to Biggin Hill. It also has a thriving Pre-School for 3- and 4-year olds.
Pat Aujla, general sales manager at Bristol Street Motors Orpington Ford, said: "The dealership prides itself on being part of the local community and this partnership gives us the opportunity to support the fantastic work the PFA does to allow the school to provide resources and events outside the basic curriculum."
Tara Field, Co-Chair of the Parents and Friends Association said: "The main purpose of the PFA is organise events for much needed fundraising for the school. The monies raised are intended for 'extras' not already provided by the school's main income.
"Working with local businesses such as Bristol Street Motors enables us to do far more and organise a wider range of events and we are grateful for the help they give to us, to allow us to further support the school and the children."