BSM Widnes Nissan Supports Budding Mechanics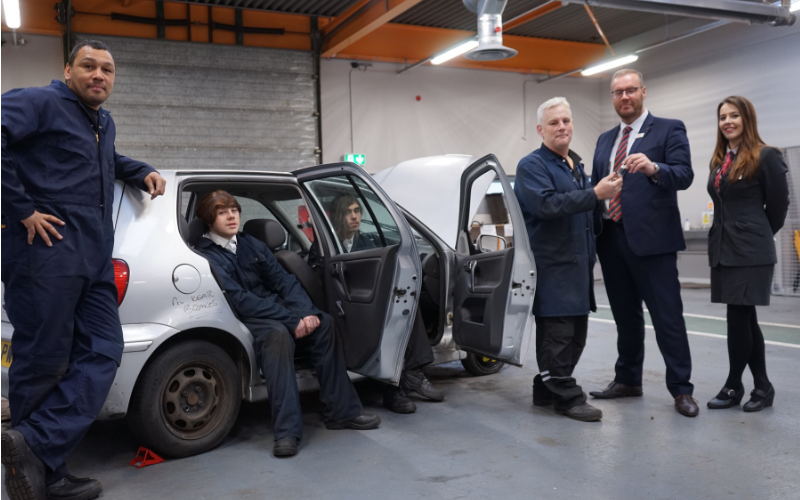 Bristol Street Motors Widnes Nissan

has donated two vehicles to provide invaluable training to pupils at a vocational school.
The Bridge School in Halton is a Pupil Referral Unit (PRU) that supports students, families and schools across Halton.
The Bridge @ 37 is a new development at the school for KS4 pupils. Students can access vocational subjects including mechanics, construction, painting and decorating and hair and beauty and can achieve an NCFE in Occupational Studies for the Workplace.
My team and I are great believers that community support is extremely important
The mechanics course proved to be very popular with students and as a result, the budget for equipment was stretched. Chris Morley, who teaches the course and has 26 years' experience in sector, with 12 in teaching, appealed to dealerships in the area for unused cars and scrap materials for the pupils to use.
Steven Anthony, sales manager at Bristol Street Motors Widnes Nissan, said: "My team and I are great believers that community support is extremely important, and we actively look for worthwhile causes and different ways that we can get involved.
"Some of our service vehicles get to the stage where they naturally need to be scrapped, so when Chris approached us to ask if we could donate anything, we were more than happy to help. The cars will provide the students with invaluable training in a workshop environment, with a real vehicle, and we are delighted that we have arranged to continue to support the school with a steady supply of cars."
Chris Morley said: "The pupils are very receptive to the courses that we offer and they have the potential to set them on a path to further education, whether that be college or apprenticeships, and can ultimately help to improve their career and life choices."
"Our pupils really the enjoy hands-on elements of the vocational courses that we provide but it's essential that they train on up-to-date equipment, so we are very grateful for Bristol Street Motors Widnes Nissan's involvement in allowing us to maintain our mechanical provision.