Bristol Street Motors Worcester Ford supports next generation of football talent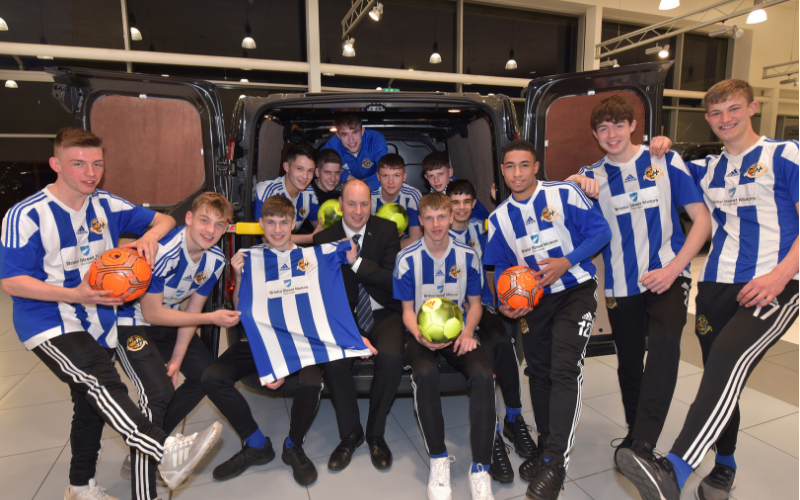 Bristol Street Motors Worcester Ford

is pledging to support the talent of the Worcester City U17s
with financial support for a third year.
As running a football team can prove to be costly, Bristol Street Motors Worcester Ford is supporting the costs of hiring training facilities, arranging weekend fixtures and sponsoring the U17s' training and home kits.
The team train twice a week, play matches on Saturdays and are currently playing in the Nerf Junior Premier League, the level below academy football. Last year, as U15s, the team reached the final of the Nerf Junior Premier League Competition and were winners of the 2018 Worcestershire County Cup.
Some of the U17s are already playing above their age group in the Midlands Floodlit League. Continued progression will see them play for the Worcester City Reserves and ultimately the Worcester City First Team.
Andrew Kite, General Manager of Bristol Street Motors Worcester Ford, said: "As General Manager of a fantastic dealership in a thriving city, I wanted to be able to share some of that success with our local community and the sponsorship of the Worcester City Football Club was an ideal opportunity to do that. I hope that the team continues to grow in performance, and we all look forward to hearing about their successes."
Steve Humphrys, manager of the Worcester under 17s said: "The Worcester FC U17s work extremely hard and are playing to a consistently high standard. To support the training and growth of our team, we appealed to local businesses in our community for sponsorship. We were thrilled when Bristol Street Motors got back in touch with us to say that they would be delighted to help.
"There are a lot of costs to consider when running a club and managing a football team. While we organise our own fundraisers to help with these costs, we still need additional support. I am so thankful that the company is helping us to nurture and grow local talent, and it is fantastic to partner with a well-respected business."
Bristol Street Motors is a big supporter of football. The company supports the Bristol Street Motors PFA Player of the Month Awards for both the men's and women's game.