BSM Supports Women's Football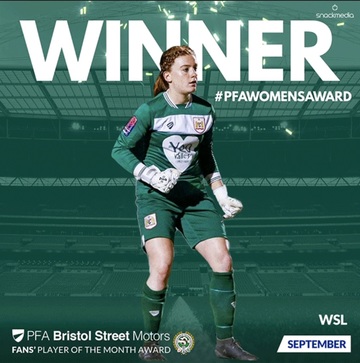 Bristol Street Motors is supporting women's national league football and sponsoring the first ever PFA Fans' Women Player of the Month Awards.
This marks the first time in the PFA's 111-year history, that the players' union has held a monthly award for female footballers. It follows the success of the PFA Bristol Street Motors Fans' Player of the Month Awards, which recognise the best male footballers across the country's top four divisions each month.
Fans who have voted for their favourite players in the Premier league have had the opportunity to present the awards to their football heroes and the women's awards will follow the same concept.
The first award was presented to Bristol City Women FC's Sophie Baggaley. Goalkeeper Sophie received 50% of the vote for September, with Birmingham City's Meaghan Sargeant taking second place. Sophie has shown strong performances, keeping two clean sheets in four games, and helped her team take points against Man City and champions, Chelsea.
Liz Cope, chief marketing officer at Vertu Motors, said: "We are thrilled that the PFA has introduced the Fans Women Player of the Month Award and we are very proud to support it. Women's football is making its mark now more than ever and it is important to demonstrate diversity and equal support for what is a fantastic league. We look forward to seeing the variety of winners over the coming months, in addition to the unwavering fan support that football is famous for."