Changing the Citroen C3 Picasso for the better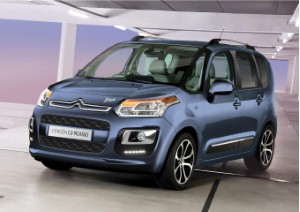 A fresh version of the Citroen C3 Picasso has hit UK roads, packing a new style and plenty of upgrades.

The ever-popular supermini MPV has received lots of praise and accolades over the years, with the latest C3 Picasso looking set to expand on the achievements gained by the range.

For starters, the latest version of this part of the Citroen family will come complete with a revised front bumper design and the up-to-date chevrons from the French car giant.

LED daytime running lights are also being installed onto the VTR+ and Exclusive C3 Picasso models, to further allow the exterior design of the new vehicles to stand out from rest of the supermini MPV crowd.

Finishing off the enhancements to the car's exterior style is the fact that drivers can now opt for Ink Blue and Pearlescent White paintjobs, on top of the more familiar body colours.

The upgrades keep on coming when stepping inside the enhanced versions of the Citroen C3 Picasso.

Still featuring an airy, spacious and flexible interior design, the French manufacturer has opted for a sophisticated new trim called Mistral 'Mixou' cloth. This stylish feature comes as standard with the VTR+ models.

For drivers more inclined to pick the Exclusive Citroen C3 Picasso, this version of the supermini MPV has 'Claudia Mistral' full black leather upholstery as an attractive option.

It is not just style that helps the improved C3 Picasso models to stand out, as Citroen's new eMyWay satellite navigation system has been added to the vehicle's list of options.

On top of acting as a great device for getting from A to B with ease, the gadget is packed with a reversing camera and rear parking sensors so that even the tightest of spaces can be manoeuvred into without a hitch.

The restyled Citroen C3 Picasso is available across the UK right now, in a choice of nine model designs.