Chevrolet showcases iconic Camaro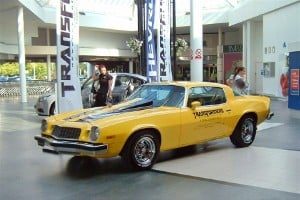 Chevrolet will showcase three generations of one of its most popular models at the Dunlop MSA British Touring Car Championship at Silverstone this weekend.

Tracing the development of the iconic car, the company will display three Camaros, as well as hosting a question and answer session with Chevrolet BTCC drivers Jason Plato and Alex MacDowall.

The new Camaro features a 6.2-litre V8 engine and boasts 426bhp.

It will be placed next to a replica of the Richard Lloyd British Saloon Car Championship Camaro Z28 from the 1970s and a 1976 Camaro built in conjunction with the launch of Transformers the Movie in 2007.

Describing the Camaro Z28, the company states: "Powered by a tuned 5.7-litre V8, the race-bred engine produces 470bhp. Indeed, the Camaro is the only Chevrolet ever to win the title in Britain's biggest ever tin-top series, in the hands of Australian Frank Gardner back in 1973."

The 2011 Chevrolet Camaro Coupe offers drivers 312bhp, 29mpg and an optional six-speed transmission.