Chevrolet to showcase new Aveo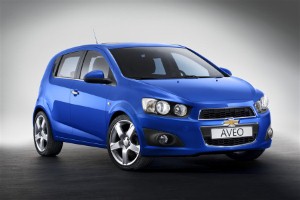 Posted by Louise Clark

A new car by Chevrolet is set to make its world production debut at the Paris Motor Show.

The Chevrolet Aveo five-door joins a number of other models and was on display at the Detroit and Geneva motor shows earlier this year.

The new car features taut body panels and a "body in, wheels out" design that could help it stand out in the competitive small car segment.

Comparable to the manufacturer's recently-launched Spark model, the car has a sporty hatch look and will be tailored to the European market before release.

Wayne Brannon, president and managing director of Chevrolet Europe, said: "Not only do we have new entries into the MPV and compact classes - in Aveo we have a car which is ready to compete against the best in the small car segment, which is also Europe's largest segment."

The new Aveo is longer than the current model and will be available with a choice of a 1.2-litre petrol, 1.4-litre petrol or 1.3-litre diesel engine.

A six-speed automatic transmission will also be optional.

Chevrolet will also reveal the new Cruze five-door hatchback at the Paris Motor Show on September 30th.