Citroen DS3 wins Top Gear awards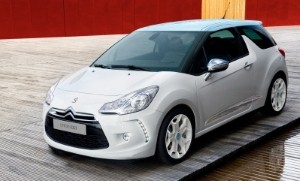 A popular Citroen model has won two awards from Top Gear magazine.

The Citroen DS3 was named 'Small Car of the Year' in the publication's 2010 Awards edition, while it also secured the highly coveted 'Car of the Year' title.

Praised for its balance of power and price, the DS3 was labelled as "impossible to ignore" by the industry magazine.

It called the car "a small, thoughtful, affordable, stylish, fun little hatchback", favouring it over stiff competition from Honda, Jaguar, Peugeot and other manufacturers.

Linda Jackson, Citroen UK managing director, said it was "a fantastic achievement".

"The Citroen DS3 has enjoyed a fantastic first year, winning the hearts and minds of both public and press. It has become the must-have model in its class," Ms Jackson stated.

Citroen is poised to introduce two special edition DS3 models next year - the DS3 by Orla Kiely Collection and the DS3 Racing.

In other news, Citroen unveiled the new C4 model last month, featuring a driver-focused design suitable for personal and business use alike.