Dacia Duster Reaches 2 Million Sales Globally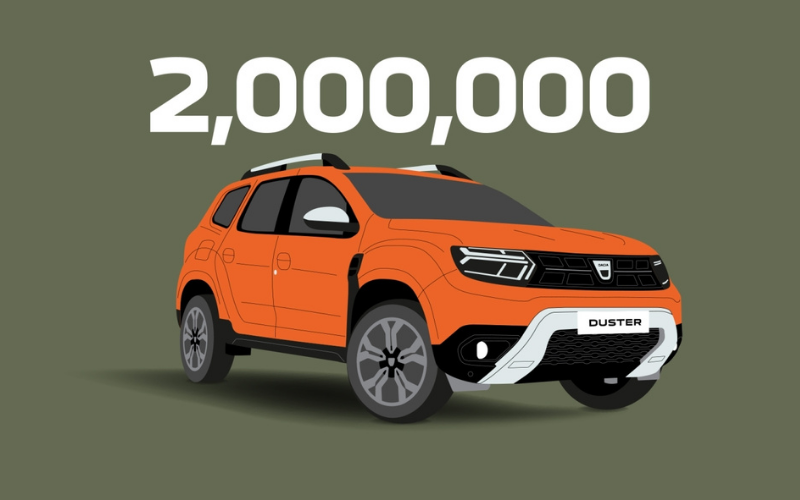 Launched across Europe in 2010, Dacia's iconic Duster has hit 2 million sales globally in nearly 60 countries.
Dacia have reached an exciting milestone, hitting 2 million sales globally for their iconic Dacia Duster SUV in nearly 60 countries.
Initially launched across Europe in 2010, the Duster has gained a reputation for making SUV's widely popular and accessible around the world. Since its release Duster has won more than 40 awards including the UK's 'Best Family SUV for Value' at the What Car? Car of the Year Awards 2022.
According to Dacia statistics, one Duster exits the production line on average every 63 seconds, with around 1,000 Duster's leaving the factory every day.
If you were to line up all 2 million Dacia Duster's, they would equate to more space than a whopping 2,100 football pitches, covering the length of a round trip from Helsinki to Ankara and a huge 380 times the height of Mount Everest.
Proving its versatility over the years, the Duster has also been adapted for many different uses including a Duster ambulance, Duster police car and even providing transport for the Pope, with the famous Duster 'Popemobile'.
The milestone comes at an exciting time for Dacia, who have recently enhanced and updated their SUV model. The latest version includes refreshed design elements, as well as the latest technology, while continuing to offer the same robustness, comfort and value-for-money which it is renowned for.