Efficiency key with the Ford Kuga, claims chief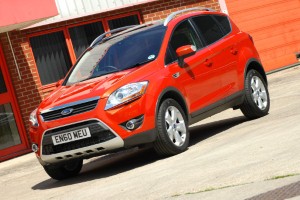 Ford's executive director of public affairs has suggested that the firm's Kuga model offers drivers an impressive level of fuel efficiency, similar to that offered by the Ford Focus.

Tim Holmes, speaking to Wired magazine about how many cars are now challenging to become as efficient as possible, while also retaining a good level of technology on board.

"Cars are converging as they compete for fuel efficiency and technology has become the new differentiator," he told the magazine.

"Kuga is one of ten cars to be built on the same medium car segment platform as the Ford Focus for instance. Ford [has] achieved low emissions and fuel efficiency and now we're concentrating on the tech."

As a run up to the recent Geneva Motor Show, the news provider took the Kuga on a road trip from England to the Alps.

The magazine found that the main "party trick" the car could offer was the auto tail lift, which sees the boot open simply by "waving a foot near the rear exhaust".