Ford Fiesta ECOnetic wins MPG Marathon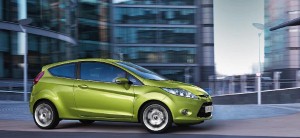 A Ford Fiesta 1.6 TDCi ECOnetic stood head and shoulders above the competition to record victory in the MPG Marathon.

The event is organised on an annual basis by Fleet World magazine in an attempt to find a car that is capable of delivering an average of more than 100mpg over a two-day period of real-world driving.

Up until the 2012 MPG Marathon, this search had failed to record any success stories. That was until the Ford Fiesta 1.6 TDCi ECOnetic stepped up to the plate.

With famous rally driver Andy Dawson behind the wheel, the vehicle was able to achieve 108.78mpg over a 370-mile route through Britain and Wales.

The feat was made even more remarkable by the fact that this particular edition of the Ford Fiesta ECOnetic is officially advertised to achieve 85.6mpg.

As Dawson shattered that official figure, the Fiesta ECOnetic was able to win the 2012 MPG Marathon ahead of a Kia Rio 1.1 CRDi eco car.

Despite having to settle for second place, fellow rally driver Mick Linford was still able to push the environmentally-friendly Kia vehicle to an impressive 102.21mpg.