Ford Ka Concept coming to UK in 2014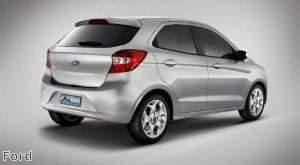 Ford has revealed the details of its new Ka Concept, which is a preview of the city car the brand is planning to launch in 2014.

It was launched in Brazil, where the initial production models will first appear, however there are plans to extend its sale to the UK in the near future.

The new model is the second vehicle to be developed by Ford Brazil and despite its name the Ka Concept is very different to the Ka models on the UK's roads today, as it is a five-door.

Joe Hinrichs, president of The Americas for Ford, said: "[The Ka Concept] shows the continued importance of our South American design and engineering capabilities to serve markets around the world. It's truly another global design and engineering milestone for Ford."

Ford believes that the new model will be a new global car, addressing the growing demand for smaller compact vehicles, a segment that is projected to increase to approximately 6.2 million vehicles by 2017.