Ford piloting self-park system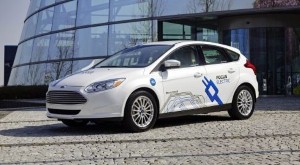 It is rare to find a car owner who enjoys parking their car. Most would probably admit that in addition to traffic and roadworks, navigating one's vehicle in tight spaces and attempting parallel manoeuvres are definite pet hates of the driving experience.

Committed to improving things in this area is Ford, one of the oldest car manufacturers in the world. It has been working tirelessly on developing technology that lets you park your car at the push of a button.

While that in itself sounds remarkable, Ford's prototype fully assisted parking and obstacle avoidance system lets the vehicle's sophisticated sensors and artificial intelligence do all the work.

So good is the technology, that a driver can remotely park their car, whereby you can watch your vehicle steer itself into place effortlessly.

"The future for Ford means developing innovative products and technologies - including fully assisted parking aid and obstacle avoidance - that help deliver a safer, more convenient, more desirable, more personalised and greener driving and ownership experience," commented Barb Samardzich, vice president of Ford's European product development.

"Ford Motor Company has always been one of the world's leading pioneers and forward-thinkers. From the introduction of a whole new way of mass producing cars 100 years ago to the advanced safety and convenience features unveiled today, we continue to set the template and define the future for drivers and the automotive environment."

The car manufacturer was keen to draw attention to its developments in obstacle avoidance technologies, which can alert motorists to slow-moving objects, pedestrians and stationary obstacles.

If, for whatever reasons, a driver does not respond to any one of these warnings, the system will automatically 'kick in' and steer and brake the car independently, so as to avoid a collision.