How Mazda is setting the bar for greener motoring with i-ELOOP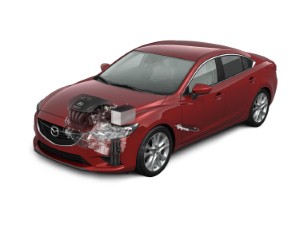 Drivers are being given the opportunity to trial the world's first passenger car system to use a capacitor in order to store electricity with Mazda's innovative i-ELOOP technology.

The motoring manufacturing industry has long been stumped when it comes to finding the best strategies for harvesting 'free' engine power when a vehicle brakes or when it is running on a trailing throttle.

In the past, the most common solution has been brake energy regeneration, which sees kinetic energy captured, otherwise it would be lost when slowing down.

While this strategy – which has even been used on Formula One cars for the past few seasons – is effective for gaining energy to recharge batteries in electric or hybrid vehicles, Mazda has claimed that its i-ELOOP system will set the bar higher for achieving environmentally-friendly motoring.

Jeremy Thomson, the managing director for Mazda Motors UK, explained: "The i-ELOOP capacitor is a unique solution to the challenge of how to harvest free engine power."

One of the main selling points of i-ELOOP – short for intelligent Energy Loop – is that Mazda has realised the limitations of charging and storage drawbacks of conventional lead-acid starter batteries seen in regenerative braking systems.

As such, Mazda's technology comes fitted with an electric double-layer capacitor (EDLC), which is able to recharge fully in only a few seconds.

This EDLC is charged using a 12V-25V variable voltage alternator, while DC/DC converter is on hand to power such electrical components as a vehicle's climate control air-conditioning unit or its audio system. Any surplus from the DC/DC convertor is then delivered to the car's starter battery.

"One of the benefits of energy recovering systems is that they allow ancillary systems such as air-conditioning to be used without drivers having to worry about the detrimental effect on fuel consumption," Mr Thomson added.

Mazda's i-ELOOP system is being made available initially in the all-new Mazda6.