Hyundai i10 Blue 'is Britain's favourite small car'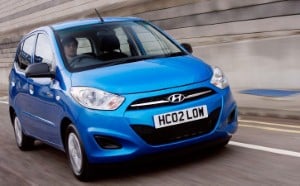 The Hyundai i10 Blue is Britain's favourite small car, it has been claimed.

According to a road test of the model conducted by Honest John, the car could be well suited to people who drive into central London regularly, since its 99g/km emissions make it exempt from the London congestion charge.

The reviewer notes that the revamped i10 features a three-cylinder 998cc engine which can achieve 69PS and 94Nm torque, while also including gear ratios that allow for travelling at 30mph in fourth gear.

Meanwhile, the Hyundai can achieve around 60mpg and its top speed is 93mph.

"If you need to go into London a lot, spending that extra £400 [more than the i10 1.2] is going to save you £10 a day in congestion charges - or £200 a month - and that's got to be worthwhile," the road test concludes.

The new version of the popular city model is due to go on sale on March 1st.