Hyundai i10 ranked top small hatchback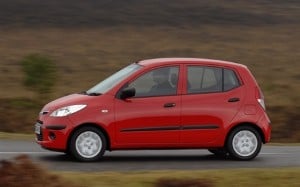 The Hyundai i10 is the most popular small hatchback among readers of the Honest John car reviews website.

According to the site, the model has been a sell-out across the UK and is "the best little car" available to consumers.

The five-seater is compact and falls into road tax band C, since it is above the 120g/km emissions limit.

It can achieve efficiency of 56.5mpg and has a top speed of around 95mph.

Air conditioning, electric windows and mirrors, central locking and a five-year unlimited warranty come as standard on the Classic and Style trim levels, while motorists willing to shell out a little more could get a height-adjustable driver's seat and remote locking.

The Hyundai i10 is also available with a four-speed automatic transmission.

"Previous attempts by Hyundai included the Atoz and the Amica, the latter ultimately selling out as a bargain-basement special, but the i10 is substantially better value," the Honest John review notes.

Meanwhile, the Hyundai i10 Edition is available in electric red, alpine blue and oyster grey.