Is the Mazda MX-5 the best convertible on the market?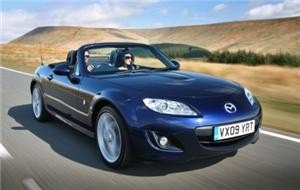 Mazda's most popular roadster has been named Best Convertible at the inaugural CarBuyer Car of the Year Awards.

The Mazda MX-5 bagged the title after achieving a star rating of 4.6 out of five, beating off competition from Volvo, Peugeot, Audi and Porsche.

Judges noted that the two-seat convertible range offers "something for everyone", with soft top, hard top and automatic models available.

"Cars that are this much fun rarely make so much sense. The 1.8 and 2.0 engines provide just the right amount of performance. Best of all, this sporty roadster is no bone-shaker, so it's as comfortable as it is good to drive," the judges stated.

The decision was made based on a number of key factors, including safety, fuel efficiency, performance and running cost.

Mazda UK managing director Jeremy Thomson added that the Mazda MX-5 is "unrivalled" and continues to attract new motorists to the convertible segment.

According to a review published on the Honest John website, the model boasts good handling and passenger comfort, as well as being relatively inexpensive to run.