Ken Block looking for top ten finish in Ford Fiesta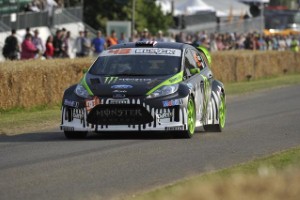 Ken Block has revealed that he is confident of success at this weekend's Rallye de France.

The American, as famous now for his audacious drifting videos as his ability on the track, gave an exclusive interview with Eurosport and said that after a successful testing session he is aiming for a top ten finish.

Confident in the credentials of his Ford Fiesta RS WRC, Block said he is looking to put the troublesome asphalt debut he suffered last time out in Germany behind him.

"I struggled really badly in Germany and couldn't figure out why. In the end I realised that I just wasn't comfortable in the car. It was really frustrating because Germany last year was my first ever WRC event on Tarmac and I was actually closer to the guys at the front than I was this year," he told the news provider.

"There are a lot of good World Rally Car drivers, so to make the top ten would be great. But, what I really need is Tarmac experience in the car. Last year was frustrating and really quite scary here."