MacArthur praises electric Renault Fluence ZE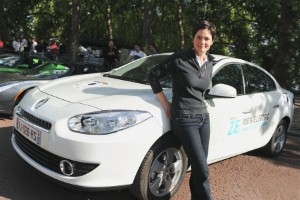 Champion sailor Dame Ellen MacArthur has unveiled the all-electric Renault Fluence ZE to the general public for the first time.

Driving a prototype of the model at the Prince of Wales' Start Eco Car Spectacular on The Mall in London on Sunday (September 12th), the famous sportswoman showcased its zero-emissions operation and praised its construction.

Renault plans to release the four-door ZE in Europe in mid-2011 with a view to making it affordable and generally available.

It will then be followed by the Kangoo ZE van, as well as the Fluence ZE four-door saloon, the two-seater Twizy concept and the five-door ZE supermini.

After test driving the Fluence ZE, Dame MacArthur said it was hard to tell it was an all-electric vehicle.

"It looks like a normal car that anyone would have on their drive. I think what is fantastic about this car is that it's designed to be the same price as a normal car," she commented.

Pre-booking for both the Fluence ZE and the Kangoo ZE is already available.

In other news, Renault will unveil the new Laguna at the Paris Motor Show this month, which is due to go on sale in November.