Mazda 5 1.6D goes on sale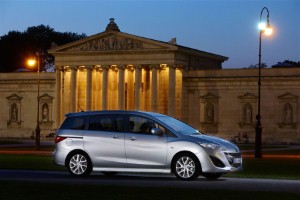 Mazda has introduced a new diesel version of its popular Mazda 5 car to European markets.

The Mazda 5 1.6D offers customers a powerful, small-displacement turbo diesel engine that is fuel efficient, affordable to run and fun to drive.

It boasts a 13.2 per cent reduction in CO2 emissions compared to previous Madza 5 cars, achieving 138g/km, while it can cover 100km on 5.2 litres of fuel.

The model features a common-rail injection system with piezo injectors and a diesel particulate filter system that is maintenance-free.

It is available in eight colours, including all-new clear water blue metallic.

Mazda stated: "When developing the new diesel version, Mazda engineers set two key priorities – class-leading, low CO2 emission levels combined with low fuel consumption and a sporty and powerful driving feel."

The car also features a 4GB navigation system with hands-free Bluetooth operation and a 14.7cm touchscreen monitor.

Mazda recently committed to meeting all fleet vehicle orders within 10-14 days.