New Mazda 5 hits UK showrooms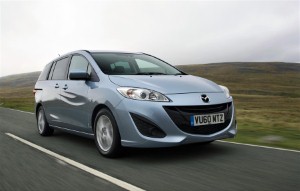 Deliveries of the new Mazda5 1.6 diesel version began this month, according to CAP.

The company notes that the new model has "among the best residual values in the compact multi-activity vehicle segment", estimating it will retain 32 per cent of its value at the three-year/60,000-mile benchmark.

Available in TS2 and Sport trim levels, the new car offers up to seven seats through the versatile Karakuri seating system, which alllows the seventh seat to be removed to create more storage space.

Mazda fleet and remarketing director Peter Allibon said: "We are now able to offer vehicle choices for all circumstances, whether the requirements are for a city car, a load-lugging estate, a high-mileage rep car or a lifestyle vehicle for user-choosers."

He added that the new Mazda5 boasts CO2 emissions of just 140g/km.

The new model can also be purchased with a 1.8-litre 115ps or two-litre 150ps petrol engine.

Mazda recently committed to meeting its fleet orders within ten to 14 working days.