Mazda to ship special edition MX-5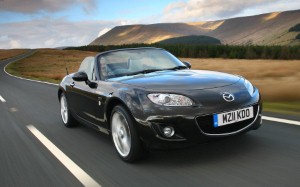 Mazda is set to introduce a special edition of the world's most popular roadster.

To celebrate global production of the Mazda MX-5 passing 900,000 units, the manufacturer has announced that it will unleash the Kendo Special Edition on March 1st with a choice of two engines - 1.8i or 2.0i.

It will be available in dolphin gray or sparkling black with mica finish and is expected to entice motorists with its blend of dynamic design, refinement and speed.

Mark Cameron, Mazda UK sales director, said the original MX-5 has enjoyed "20 years of incredible popularity" in the UK, where it has shipped ten per cent of its units.

"The enhanced practicality of the third-generation models has enabled the MX-5 to become much more than a sunny weekend car and our Roadster Coupe now accounts for the majority of sales," Mr Cameron stated.

On top of this, the Mazda MX-5 Kendo Roadster Coupe will also include a premium Bose sound system, Bluetooth and cruise control.

Mazda was recently named number one manufacturer for customer satisfaction in the latest UK Customer Satisfaction Index.