Mazda to showcase concept cars at Geneva Motor Show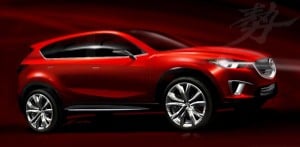 Mazda will showcase its latest concept model at the Geneva Motor Show this weekend.

The Mazda Minagi is a compact crossover SUV and precedes a new generation of models featuring SKYACTIV powertrains, new chassis designs and improved safety technologies.

It embodies the manufacturer's new Kodo - Soul of Motion design ethos, and will sit alongside the Mazda Shinari concept at the motor show.

The exhibition will also see Mazda showcase its spring 2011 limited edition version of the popular Mazda MX-5 sportscar.

Mazda president Takashi Yamanouchi said the Geneva Motor Show would be a "brand new chapter" for the company.

"Throughout our long history, Mazda has continued to challenge conventional thinking and overcome perceived obstacles by seeking breakthroughs. Today, this breakthrough spirit is still thriving throughout our company," Mr Yamanouchi stated.

Meanwhile, the manufacturer today (March 1st) releases the Kendo special edition Mazda MX-5 in the UK, boasting refined equipment and Dolphin Grey mica finish.