Mazda6 business line released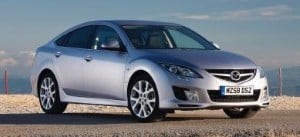 Mazda has added a new business line to one of its most popular executive vehicle ranges.

Released yesterday (June 1st), the new Mazda 6 is aimed at business drivers and fleet managers looking for more functionality from their vehicle.

The hatchback boasts a 2.2-litre diesel engine producing 129PS, while it emits just 138g/km of CO2 and sits in the 20 per cent benefit-in-kind tax bracket for 2011-12.

Available in black mica, sunlight silver metallic and stormy blue mica, the business car features a Sanyo TomTom satellite navigation system with Bluetooth technology and 17-inch alloy wheels.

Mazda Fleet and remarketing director Steve Jelliss said the manufacturer is "anticipating significant incremental sales" of the new Mazda 6.

"This is the first time Mazda has introduced a model specifically intended to appeal to company car drivers through a combination of both features and attractive benefit-in-kind rates," Mr Jelliss added.

In related news, the Mazda 3 recently reached three million global units, further emphasising its popularity in the UK and abroad.