Motorists advised to check tyres ahead of May bank holiday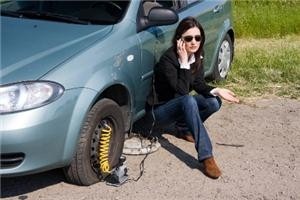 TyreSafe want all motorists heading off on a trip over the May bank holiday to check that their tyres are at an optimum level, in a bid to reduce "roadside misery".

The not-for-profit organisation, which exists to raise awareness of the importance of looking after tyres – as well as the dangers of defective and worn out ones – points to "shocking statistics" that reveal just how big a problem it can be.

According to the AA, more than 12,000 drivers had to ring up the breakdown recovery organisation when they were out and about in their car during a public or bank holiday.

This number can be drastically cut if motorists simply carry out a number of checks before they set off, which helps to reduce the risk of a "tyre-related incident" occurring.

"The high number of tyre related call outs attended by the AA last year on public holidays is quite worrying, especially when you consider that this is just one vehicle breakdown recovery organisation," commented Stuart Jackson, chairman of TyreSafe.

"Indeed, tyres that aren't checked regularly or before any long journeys could be potentially hazardous, endangering the safety of the driver, passengers and other road users."

Some of the advice imparted by the not-for-profit organisation includes inflating tyres at a higher pressure if they are carrying more passengers and luggage than normal. This is vital as under-inflated tyres may result in excessive heat build up inside the tyre itself, causing it to fail.

Another thing to check is the tread depth of a tyre so that it is both safe and legal. It should be, on average, at least 1.6mm across the central three quarters of the tyre.

"Most drivers take the sensible precaution of checking their oil and water levels before a long journey and the same should also apply to checking the state of the tyres," Mr Jackson added.

"After all, bank holidays are here to be enjoyed, not spent by the roadside waiting for a breakdown recovery van."