Motorists 'should check tyres before setting off'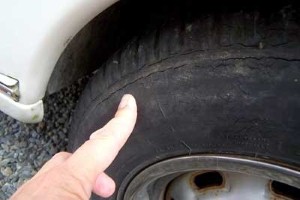 Motorists planning to visit friends and loved ones this bank holiday weekend should be sure to check the condition of their tyres before setting off.

This is the advice of TyreSafe, which is encouraging drivers to inspect their tread depth and grip since wet weather could lead to slippery road conditions.

According to UK law, tyres must have a tread of at least 1.6mm across 75 per cent of their surface. Inserting a 20p piece into a tread groove can be a good test, since if the outer rim of the coin is covered then the tyre is legal.

Individuals not meeting the requirements could face a fine of up to £2,500 and three penalty points per illegal tyre.

Stuart Jackson, chairman at TyreSafe, commented: "As the only contact point between a vehicle and road surface, it's essential that drivers make sure their tyres are in a suitable condition to cope with the potentially hazardous conditions."

He added that taking "just a few moments" before a journey can make all the difference.

Meanwhile, the Institute of Advanced Motorists is similarly warning motorists to ensure their tyres are correctly inflated, since under-inflated tyres can shorten lifespan by as much as 30 per cent.