New All-Electric Citroen E-Relay Officially Launched In The UK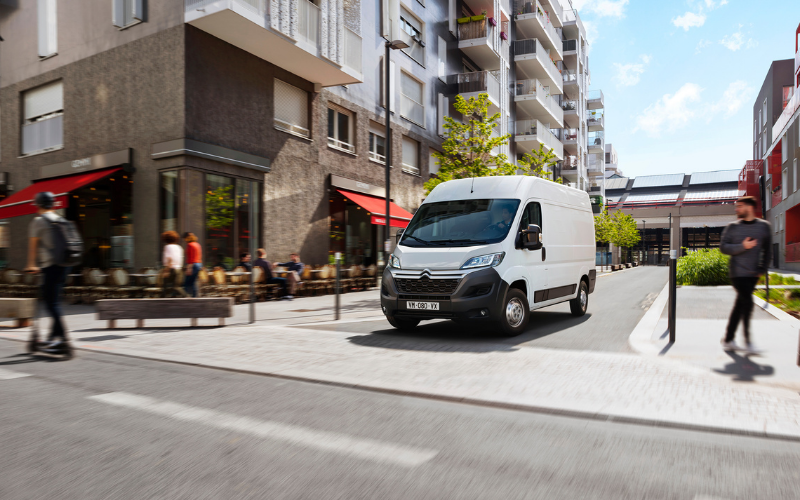 The new Citroen e-Relay was officially launched in the UK on Wednesday 25th August and is Citroen's biggest and most spacious 100%-electric van.
The new e-Relay joins the award-winning Citroen e-Dispatch in Citroen's extensive LCV line-up.
The 100%-electric e-Relay is available exclusively in 'Enterprise' trim and is able to meet the vast majority of business and fleet operators needs as it's available in Panel Van, Window van or Chassis Cab configurations.
The Panel Van versions are available in L2 (5,413mm), L3 (5,998mm), and L4 (6,363mm) lengths, whilst the Window Van is offered exclusively in L4 form and the Chassis Cabs are available in L3 length.
Offering up to 15m3 of load volume and 1,150kg of payload, the new e-Relay provides excellent practicality and versatility.
There is a choice of two Lithium-ion battery packs: a 37kWh option connected to a 120hp electric motor available exclusively in the L2 Panel Van, or a 70kWh option also connected to a 120hp motor for all other body types.
In the L2 Panel Van, the 37kWh battery provides a WLTP certified range of up to 73 miles, whereas the 70kWh battery increases range up to 139 miles under WLTP testing for the L3 and L4 variants.
A Type-2 charging cable comes as standard with all new Citroen e-Relay models and supports a charge of up to 22kW.
For the 37kWh and 70kWh versions, a full charge from a 7kW wallbox unit will take six and 12 hours respectively.
New Citroen e-Relay models come as standard with a five-inch colour touchscreen, DAB radio and satellite navigation, as well as a new rear-view mirror that contains a small display with key information including battery charge level and remaining range.
Keep an eye out for more Citroen updates in our newsroom.
Why not take a look at the fantastic range of new Citroen Van deals we currently have available on our website?