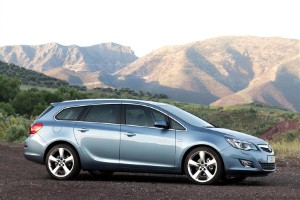 The new Vauxhall Astra Sport Tourer has been cleverly designed, according to a review of the vehicle.

Honest John reports that the new model features gently tapered rear side windows and a curved roofline that gives it a "coupe-like" appearance.

Available in a range of VVT engine types offering between 100PS and 160PS, the model can be equipped with a five or six-speed manual or six-speed automatic transmission.

The ES range includes black cordoba cloth trim and standard equipment such as an MP3 CD player, while the Exclusiv range boasts black Scene cloth trim.

Other options include alloy wheels, FlexFloor luggage compartment, a towing pack and adaptive headlights.

The review states: "The design brief was to create a workhorse, as the Astra estate has always been, but not to make it look like a workhorse.

"It's pure new Astra with a good-looking, decent quality dash and all controls neatly to hand."

The Vauxhall Astra Sport Tourer debuted at the Paris Motor Show in October.