New Ford Transit Courier makes global debut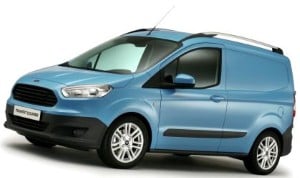 The all-new Ford Transit Courier has made its global debut in Birmingham, thereby marking the full launch of the entire Transit range.

Ford Transits have a strong and proud tradition in the UK, with many fleets favouring their reliability and efficiency, and now the company is keen to add impressive loadspace, low running costs and a host of safety features to the list of benefits involved with buying one.

Ford claims this new family is the largest Transit line-up, with the Courier the smallest member, alongside its bigger brothers, the Connect, Transit and Custom.

The Courier is set to go on sale in spring of 2014, by which time all the Transit models will also fill European forecourts, with the higher-roof version also being unveiled at the recent Birmingham CV Show.

However, you don't need this specific model to guarantee an impressive amount of space, with the vehicle offering an impressive load volume of 2.3 cubic metres as well as 4.16 metres' worth of bulkhead.

On top of this, it can boast being best in class when it comes to load length at floor level, with this standing at 1.62 metres as well as greatest access width through its sliding rear doors.

As well as all these practical space benefits, the Transit Courier also comes with various technological features.

These include a voice-activated in-car connectivity system and Ford SYNC with Emergency Assistance, as well as a Rear View Camera, Easy Fuel, Speed Limiter and standard Electronic Stability Control.

Barb Samardzich, vice president of product development, Ford of Europe, said: "Ford has now completely transformed its commercial vehicle line-up, with four all-new, class-leading Transits for European customers.

"With the all-new Transit range, we expect sales to grow to 400,000 units per year by 2016, well over 50 per cent more than we sell today."

The new vehicle was joined by the new Fiesta Van and Ranger models at the Birmingham event, with the former recently winning the International Pickup Award 2013.