Peugeot EX1 smashes records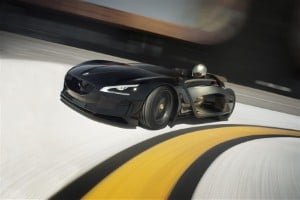 Peugeot's electric EX1 model has broken a series of world records after being tested in France.

The concept car set six new acceleration records for a vehicle weighing less than 1000kg at the Montlhery circuit in France on Tuesday (September 21st).

It broke the quarter mile, 500m and 1km speed records - held since 1971 by the Opel GT Electric in 1971 - before setting new speed records over an eighth of a mile, half a mile and a mile.

Peugeot notes that the performance demonstrates the potential of its electric vehicles, since the EX1 has greater acceleration than a supercar.

"The instantaneous maximum torque produced by an electric motor is what provides the record breaking performance of the EX1 - a strength which is not found in conventional internal combustion engined vehicles," the manufacturer notes.

The model will be on public display at the Peugeot showroom on the Champs-Elysees in Paris between September 22nd and November 14th.

Peugeot is celebrating its 200th anniversary this year, but produced its first vehicle in 1891.