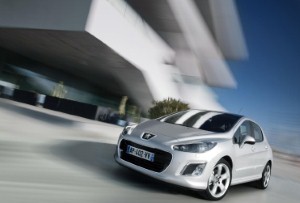 Peugeot has unveiled the all-new Peugeot 308, due to reach UK dealerships in May this year.

With elegant new styling and the latest Euro 5 engine technology, the model emits just 98g/km, making it exempt from the London congestion charge.

The car will be available in four trim levels - Access, SR, Active and Allure - and two GT THP 200 models - Hatchback and CC.

Peugeot notes that since the launch of the original 308 in September 2007, it has sold 900,000 of the cars worldwide and 84,000 in the UK.

The updated version boasts e-HDI Stop & Start engine technology and weighs 25kg less than its predecessor.

"This engine option will also be available with either a six-speed manual gearbox or a six-speed electronically controlled manual gearbox, giving the New Peugeot 308 the lowest emissions in its segment," the manufacturer states.

It adds that the car will be unveiled in earnest at the Geneva Motor Show, which runs between March 3rd and 13th.