Renault relaunches Va Va Voom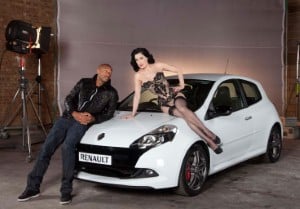 Renault has launched a Va Va Voom advertising campaign for the new Clio.

Featuring original star Thierry Henry, alongside Rihanna and Dita Von Teese, the advert aired for the first time on ITV1 on Sunday night (February 6th) during Dancing on Ice.

It also features appearances from Marlon Brando, David Bowie and Audrey Hepburn, and follows on from the successful launch of the Va Va Voom campaign, which led to the phrase being added to the Oxford English Dictionary in 2004.

Phil York, Renault UK marketing director, said the ad is "still so popular", despite having been off air for five years.

"Rihanna and Dita are the current queens of Va Va Voom, so we asked them to show us exactly why. But we couldn't make a new ad without Thierry and he looks pretty impressed," Mr York added.

In other news, the manufacturer recently released the new Renault Megane Coupe Monaco GP Limited Edition.