Renault reveals Kangoo ZE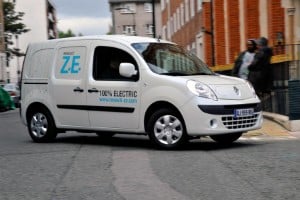 Renault is set to showcase the production version of a new zero-emission light commercial vehicle (LCV).

The Kangoo Van ZE is the first all-electric van developed and built by a manufacturer and will feature at the International Commercial Vehicle Show in Hannover from tomorrow (September 23rd).

Able to draw power from conventional 220V 16A domestic sockets, the van has a load capacity of up to 3.5m2, a load length of 2.5m and a payload of 650kg.

Its range of 100 miles on the NEDC combined cycle could make it an attractive model for small businesses, while its hinged rear doors and sliding side doors make loading up quick and easy.

Retailing at £16,990 excluding VAT in the UK, the van will also be made available through a battery subscription scheme from £59 per month.

"Based on the standard Renault Kangoo Van, the electric van delivers zero-emission mobility for business customers who care about environmental issues. It is designed to set high standards in durability and reliability," Renault states.

The Hannover show runs at the city's Exhibition Centre until the end of the month.