Renault unveils Wind Roadster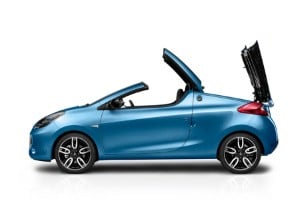 Renault has announced the release of a new model that could interest customers in search of a new car.

The Wind Roadster is a two-seat coupe-roadster that fits in between the manufacturer's Clio and Twingo models in terms of size and features an electrically-operated roof system.

Built on the same platform as the Clio II Renaultsport, the car has benefitted from the company's sport technologies and is available with a choice of two engines - the 1.2 TCe 100 and the 1.6 VVT 133hp.

A key feature is the new car's weight to body-rigidity ratio, which allows the 1.2-litre model to achieve fuel consumption of 44.8 mpg and CO2 emissions of 145g per kilometre and the 1.6 VVT to boast a top speed of 125 miles per hour.

Other equipment that could draw in customers in search of a new car includes automatic windscreen-wiper activation, cruise control, emergency brake assist and speed limiter.

Renault product director Beatrice Foucher-Sybord commented: "You could say that Wind has created its own category."

The model will be available in the UK this month.

Renault recently made its 50 millionth gearbox at its plant in western France.