The Worlds Most Brilliant Police Cars (And A Couple Of Rubbish Ones)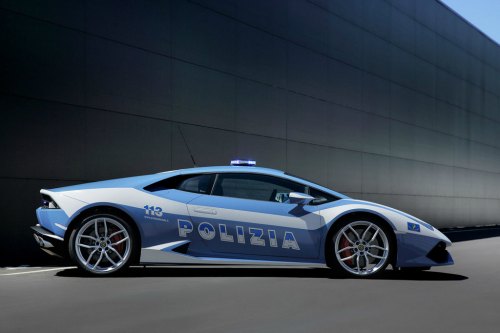 The world is evolving rapidly. A hundred years ago, a "high speed chase" was a red faced, baton waving policeman jogging down a country lane after an apple thief. With new technology in constant development and an ever increasing population, law enforcement has had to adapt to combat the changing nature of crime around the world. And one of those ways is by buying lots of really, really cool cars.
Don't let Hollywoods depiction of police cruisers as skidding stunt-fodder fool you. Today's police cars look a lot less Chief Wiggum and a lot more Dirty Harry. Below we've assembled a collection of the fastest, most powerful, and just plain coolest police cars on the road today. Oh, and a couple of terrible ones, just for good measure.
2015 Dodge Charger
Look at this car. Just look at it. This is what a law enforcement vehicle should look like. The iconic Dodge Charger already resembles Mike Tyson if he was a Transformer, but the souped-up police version boasts a 5.7L, 340bhp Hemi V8 engine, capable of catapulting the vehicle to 60mph in under 6 seconds. Setting it further aside from the civilian Charger are upgraded heavy-duty brakes, police performance tuned steering, as well as the more obvious addition of a ton of hi-tech police radio equipment and computer kit.
Arial Atom PL
The Arial Atom was gifted to the Avon and Somerset Constabulary as part of a campaign to increase safety awareness for motorcyclists and discourage speeding. How, exactly, a 155mph, 2.0 litre, 350bhp super-car tearing around the countys roads promotes motorcycle safety isnt really clear, but regardless, its a seriously cool machine, which looks (and moves) like a rocket, with a whiplash-inducing 0-60mph of 2.5 seconds. However, fear not, teenage loiterers, the car is only for promotional use, and wont be out on the beat any time soon.
Caparo T1 Rapid Response Vehicle
If the guys on Traffic Cops had one of these, the programme would be over a lot quicker. Imagine the shock of glancing in your rear view mirror to see this demon powering up the road behind you, with its ridiculous 3.5-litre V6, 345bhp engine and max speed of 205mph. Unfortunately (or fortunately, depending on whether or not youre a bank robber) the police issue version of the Caparo T1 was only a prototype, and never made it to production.
Bugatti Veyron
In keeping with the city's reputation for its quiet dignity and respectable taste, the Dubai police force has recently assembled a modest squadron of Smart City Coupés to patrol the community, promoting safety while keeping emissions low.
No wait, that's not right. Ah, yes – the Dubai police force have in fact spent 6.5 million dollars assembling a fleet of super cars including an Aston Martin One 77, a Ferrari FF, and a McLaren 12C. The jewel in the crown is the Bugatti Veyron, second fastest car in existence, 987bhp, 0-60mph in 2.5 seconds, 922lb·ft of torque, and an earth shaking top speed of 267mph. The Dubai police force use their armada of mega-machines for show, patrolling wealthy tourist areas to maintain an image of class.
The only vehicle in existence that could outrun this police car is the Hennessey Venom GT, with a top speed of 270mph. Now that would be a good highway chase to watch.
Lamborghini Huracán LP 610-4 Polizia
Despite the Italian traffic police writing off both Gallardo's that Lamborghini gifted to them in 2004 (with one Gallardo somehow ending up squashed under a van), the manufacturer forgave and forgot, presenting the authorities with a shiny new Huracán in 2014. This gorgeous car packs a 5.2 V10 engine, 602bhp with a top speed of 202mph.
While it may not be as fast as the Veyron, the Huracán takes the top spot on this list due to the fact that, unlike Dubais fleet of supercars, the Italian authorities actually use their prized Lamborghinis out on patrol. The car has an LED light bar (specially attached so it doesnt fly off when accelerating), four sirens, gun holsters, and a refrigeration system for transporting human organs due for transplants. On top of this, the car features recording equipment, as well as a detachable screen to show mischievous motorists exactly what they did wrong. Let's just hope the Italian police force get to enjoy their Lambo a bit longer this time before a wayward minivan flattens it.
Now To The Other End Of The Spectrum
Lada Riva
With a 1.5 litre engine, a chassis-rattling top speed of 95mph, and a 0-60 time of about 3 days, the Lada Riva used by the Cuban police force isnt exactly the Batmobile. Used and abused by the Russians for decades, the Lada-loving Soviet Union sent several thousand across to Cuba in the 1970s, which have been in circulation ever since, a favourite of the police force and taxi drivers. The police version is kitted out with all the mod cons: a few wheels, probably some windows, and a massive honking comedy siren. Thats the sound of the police.
This thing
PC Keith Waller of Hampshire Police fashioned this mean machine with the aid of teenagers at a local comprehensive school. The pedal car has five gears, cost over £1,000 to make, has a varying top speed dependant on whether or not the driver has had a Red Bull recently, and has a 0-60 time of forever.
The car was constructed to make the police look cooler and fun, but Hampshire constabulary have admitted theyre unlikely to be arresting anyone without a zimmer frame.
Need to wash away the memory of the Lada Riva and the Hampshire pedal car? Head over to our new cars section.