The Fastest Cars of All Time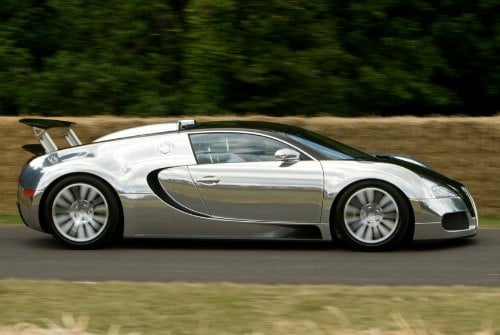 The fastest vehicles people have engineered operate in outer space. Up there, theres no energy to waste on traction, and no gravity to worry about. But down on the ground, there is, and things get trickier. Yet as far back as the 1920s, we were mastering it mastering the art of horsepower, torque and getting a tonnes worth of metal to move at over 100mph.
Its amazing when you think about it.
To celebrate this miraculous achievement, were going to list the fastest cars in the world by decade, starting with the 1920s. To make this a fair round up, only production cars will make the cut no race cars and no prototypes. So without further ado, lets begin:
1920s Mercedes-Benz 680S Saoutchik Torpedo
Manufactured from 1928, the Mercedes-Benz 680S Saoutchik Torpedo was way ahead of its time, and was the fastest production car of the 1920s. It had a top speed of 110mph, courtesy of a 6.8-litre inline-6 supercharged dual-carburettor engine with a total 180 horsepower.
1930s Delahaye 135 Modifie Speciale (MS)
The 135MS, launched in 1937, was the definitive version of Delahayes signature chassis. It was the top model in the range, with a 3,557cc straight-6 engine with 135 horsepower. It had a quoted top speed of 100mph, and was therefore one of the fastest cars in the world.
1940s Jaguar XK120
Launched at the 1948 London Motor Show, the Jaguar XK120 was the fastest production car in the world at the time. It was powered by a 3.4-litre dual overhead-cam inline-6 XK engine with 160 horsepower. The 120 in its name is a tribute to its top speed 120mph.
1950s Mercedes-Benz 300SL Coupe
Produced between 1954 and 1963, the Mercedes-Benz 300SL Coupe had a revolutionary fuel injection system, derived from the DB 601 V12 World War II fighter. This was added to a 3.0-litre overhead cam straight-6 engine, for 215 horsepower and a top speed of 161mph.
1960s Lamborghini Miura P400S and Ferrari Daytona 365 GTB/4
Weve chosen two cars for this decade, as we cant decide which is most impressive. Wed rather you be the judge of that! So first up we have the Lamborghini. The Lambo Miura – pictured above in a fetching orange colourway – was produced from 1966 to 1973. It was powered by a 3,929cc naturally aspirated mid-mounted V12 engine with 360 horsepower. Its top speed is quoted as 171mph. The Ferrari 365 GTB/4 was powered by a 4.4-litre front-mounted V12 with six Weber carburettors, producing 352bhp. Yet with less power than the Miura, it had a greater top speed of 174mph.
1970s Lamborghini Countach LP400 and Ferrari F12BB
Again, weve had to choose two cars for this decade because they are so closely matched. The Countach LP400 was the perfect successor to the Miura. Although originally planned to have a 5.0-litre V12, it had a 3,929cc mid-mounted V12 engine with 360 horsepower and a quoted top speed of 186, but in reality it was more like 170. The Ferrari F12BB, or Berlinetta Boxer, had a 4.4-litre V12 engine with 360 horsepower. To do one up on Lamborghini, they quoted a top speed of 188mph, however in reality it was no faster than the Countach.
1980s RUF CTR
Introduced in 1987 and based on the Porsche 911, the RUF CTR was a limited-production high-performance super-light sports car that shocked the supercar world. It had a highly tuned version of Porsche's 3.2-litre flat-six cylinder engine. Two turbochargers and uprated components gave this car a staggering 469bhp and 553 N-m of torque, and with that a 0-62mph time of 3.2 seconds and a top speed of 211mph. Nicknamed Yellowbird, the CTR could be outperformed to 60mph by supercars, but itd outperform them at the top end.
1990s McLaren F1
The McLaren F1, like the RUF CTR, is faster than many supercars today. It was a huge leap forward in car engineering, with a stunning top speed of 242.8mph with the speed limiter removed, or 231mph without the limiter removed. It was powered by a 6.1-litre S70/2 V12 engine with 618bhp and 617 N-m of torque. It wasnt just the mighty top speed that made this car the icon it is today, however, with its acceleration smashing every other production car ever made; 0-62mph in 3.2 seconds and 0-100mph in 6.4 seconds is what it would do.
2000s Bugatti Veyron 16.4
The McLaren F1 was knocked off its perch as the fastest production car in the world in 2005 by the Bugatti Veyron 16.4 almost a decade after it was introduced. The Veyron was somewhat of an oddity, though, in that it wasnt a super-light supercar. It had big leather seats, a luxurious interior and a suspension designed for comfort, not the track.
And yet with its 8.0-litre W16 quad-turbo engine producing 1,000bhp and 1,250 N-m of torque, the Bugatti Veyron 16.4 obliterated the F1s speed record with a top speed of 253.81mph and a 0-62mph time of 2.7 seconds, thanks to all-wheel-drive. In 2010, Bugatti bettered their own record with a speed of 267.857 in the Bugatti Veyron SuperSport, a lighter more agile version of the 16.4. But this record didnt last for very long
2010s Hennessey Venom GT
Known as the unofficial fastest accelerating car in the world, The Hennessey Venom GT is produced by Hennessey Performance in America. It is based on the Lotus Exige, however based on is putting the two together too closely, really, for the GT is in a different world.
In tests, it hit 270.49mph at the Kennedy Space Centre in 2014, making it the worlds fastest road car. However, it did not make the Guinness World Book of Records, because Hennessey hadnt produced 30 at the time. But make no mistake this is still the fastest road car in the world! To compound this, it does hold several other records, such as for the fastest production car from 0186 mph with an average acceleration time of 13.63 seconds which was recorded and awarded by Guinness. Next stop 300mph with the Venom F5.