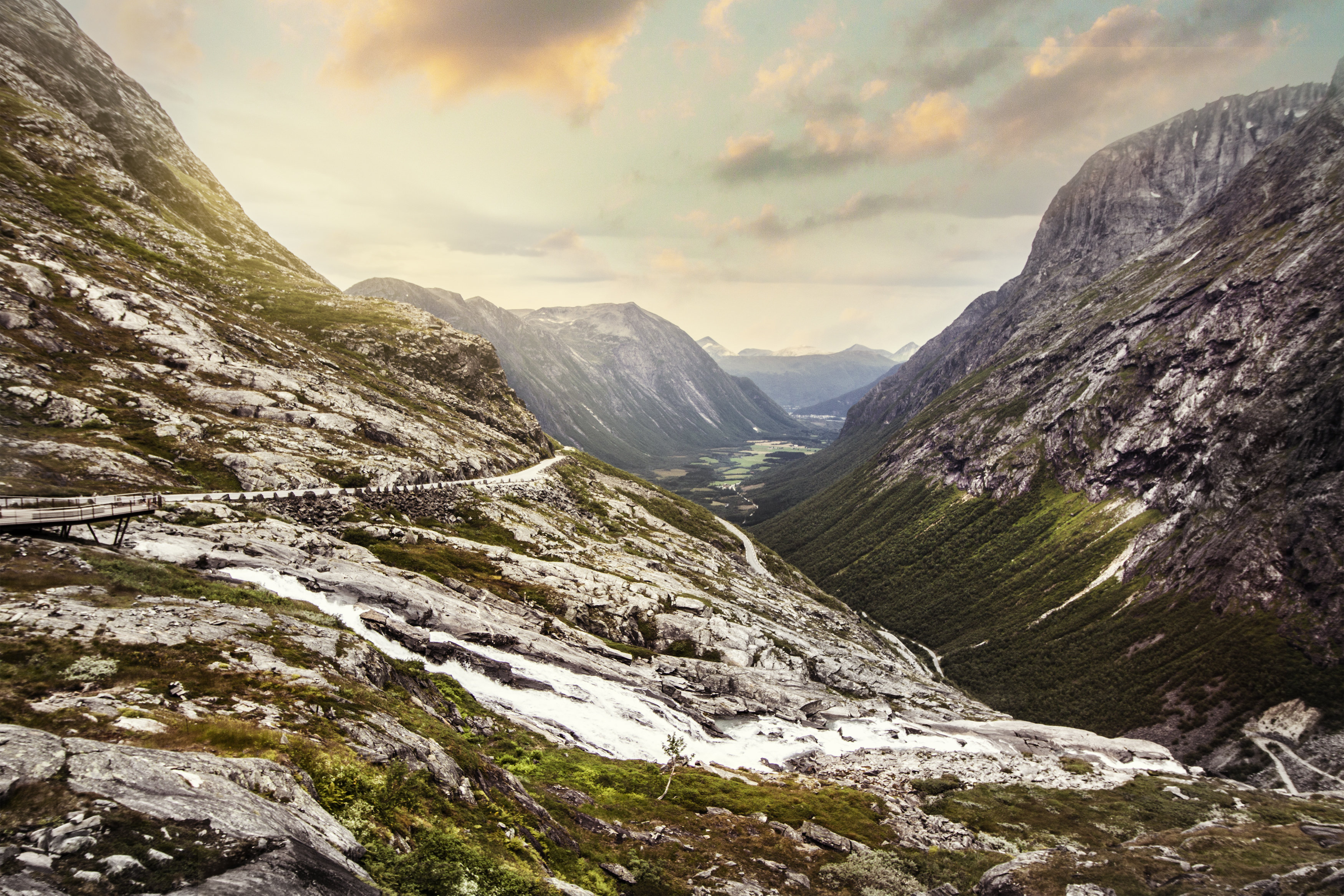 As well as getting you from A to B, now and again driving should be an exhilarating experience.
However, its not just the car thats responsible for this experience, but the place youre driving it. Its all well and good owning a Ferrari, but if you only ever use it to crawl along on the school run, then its probably easy to feel like youre missing out on something.
If youre itching to get back to the heart of driving, and take a trip thats truly exhilarating, we've put together a list of some of the best roads in the world. However, were not expecting you to walk them, so we've accompanied each road with a car that completes the journey.
If youre up for an adventure, heres some of the worlds most amazing roads, and what to drive on them.
Trollstigen, Norway
Trollstigen, which translates as Trolls Path, is one of the most beautiful mountain roads in the world in terms of its backdrop and scenery. Its also one of the most adrenaline-inducing roads on the planet, thanks to its seemingly endless number of tight hairpin turns and loads of enormous and smooth straights.
To make this a truly Scandinavian adventure, we could only choose the Volvo XC90. Bold, yet with a calm and collected Nordic understatement, the XC90 is perfect for taking on the Trolls Path.
The Stelvio Pass, Italy
The Stelvio Pass in Italy gives Trollstigen a run for its money, with an equally rugged backdrop, but surprisingly well maintained tarmac road. At a whopping 15-miles long with an average speed of 28mph, itll take you a good 45 minutes to get to the end, or even longer if you slow down and admire the ridiculously beautiful views.
With its large city car reputation, the Fiat Panda might seem an odd fit for the Stelvio Pass. However, with its use by the Italian Army and Forest Services as a climbing car, the Panda is a slightly unusual but ultimately obvious choice.
Highway 1, California
If heights aren't your thing, drive the Highway 1 in California. This roads runs along most of the Pacific coastline of the U.S state of California and you will take in some stunning ocean views along the way. Running for approximately 656 miles, the first section was opened in the 1930s and various sections have been added since then. In fact, this road wasn't even called Highway 1 until 1964.
We cant think of a better way to take in the sights and sounds of the U.S.A than the Ford Mustang. Ostentatious, brash, but surprisingly welcoming, the Mustang is the embodiment of the American dream in automotive form.
The North Pennines, England
This drive from Hexham to Penrith is frequently voted one of the Greatest Drives in Britain, and its not hard to see why. Much of the route takes place in the North Pennines Area of Outstanding Natural Beauty, meaning there are plenty of steep climbs, slow descents, and of course, stark but breathtaking views.
For this drive, itd seem rude to not recommend the Nissan Juke. After all, this capable crossover is manufactured in relatively local Sunderland, just under 50 miles to the east of our start point in Hexham. However, regional pride isn't the only reason we've picked the Juke; big (but not bulky) looks, excellent handling, and all round dependability make it the perfect car for taking on the rugged and changeable North Pennine terrain.
Tianmen Mountain Road, China
If the Guoliang Tunnel looks a thrill, check out the beautiful (and just a little frightening) Tianmen Road in Hunan, China. This road runs through and up the Tianmen Mountain National Park. The highest gradient on this road is 37-degrees, so be sure to select a low gear, and with a whopping 99 bends, be sure to take your driving A-game along too.
With an improved suspension and lighter build to previous models, the Jeep Wrangler is the right match to take on such a driving feat. Not only that, it looks to part too, which in such breathtaking surroundings is perhaps equally as important as performance.
Furka Pass, Switzerland
This Swiss road is high in the Alps, and like Trollstigen in Norway and The Stelvio Pass in Italy, it offers up some of the most stunning views imaginable. So stunning, in fact, that this road was host to the chase scene in Goldfinger. As a result, millions of Bond mad tourists hitch a ride up this road every year.
Of course, the James Bond connection means there could be only one car to take – the Ford Fiesta. Wait a minute, hear us out. In the film, henchman Oddjob is seen driving a Ford Popular, a name which in its early days the Ford Fiesta was occasionally called, alongside the Escort.
Whilst were not a tour operator, we can help you get hold of all the cars we've mentioned in this article. Luckily, theyre just as great driving on slightly less thrilling roads of Britain as they are in exotic locations. Whether youre looking to feel like youre cruising down a U.S highway, or just want to imagine youre a bond henchman, Bristol Street Motors have everything you need.