Vauxhall reveals GTC Paris concept interior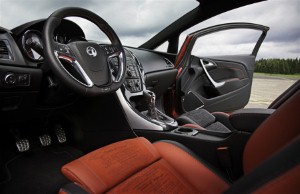 Vauxhall has unveiled the first images of the interior of its GTC Paris concept, set to appear at the Paris Motor Show later this month.

The inside of the vehicle suits its sporty exterior, boasting sweeping lines and the use of red and black fabrics to achieve a vibrant appearance.

It features two bespoke front bucket seats made especially for the model, with aggressive contours to match its sports design.

The instrument panel includes a wrap-around design that encircles the front seat passengers and reaches the tops of the door mouldings.

Motorists could be drawn in by the GTC Paris concept due to its black leather racing steering wheel and 'wing and blade' motifs that have become a regular theme in new Vauxhall models.

The company notes: "The GTC Paris gives the strongest hint yet at what buyers might expect from the next Astra 3-door when it's unveiled at this year's Paris Motor Show on September 30th."

Designer Mark Adams described the model as "bold, pure and iconic", while also praising its functionality and luggage capacity.

It is a five-person vehicle which measures 4.46 metres long and boasts 21-inch wheels.