Volvo Builds World's Safest Safety Car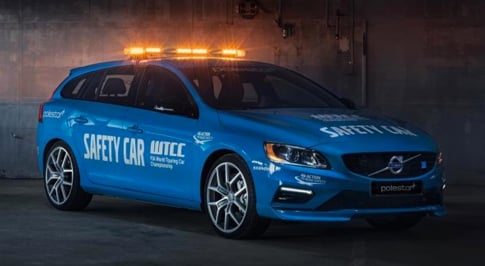 Starting in France early April, Volvo is not only competing in the World Touring Car Championship, but are also providing the safety cars for the event; a modified V60 Polestar which Volva claims is "the safest-ever safety car".
Any aspiring safety car has to meet several criteria, the most important of which, obviously, is being able to keep pace with the race cars themselves. With 345bhp and 369lb.ft of torque, the V60 is more than capable, even when fitted with a roll cage, rescue and communications equipment. The car is capable of doing 0-62mph in 5 seconds and a limited top speed of 155mph coming from a 3.0 litre turbocharged engine, mated to a six speed automatic gearbox.
Elsewhere, the car is crammed full of airbags, and has various klaxons and sirens for accident assistance. The car will ensure safety of the racers, as well as leading the pack pre-race and trailing in the opening laps.