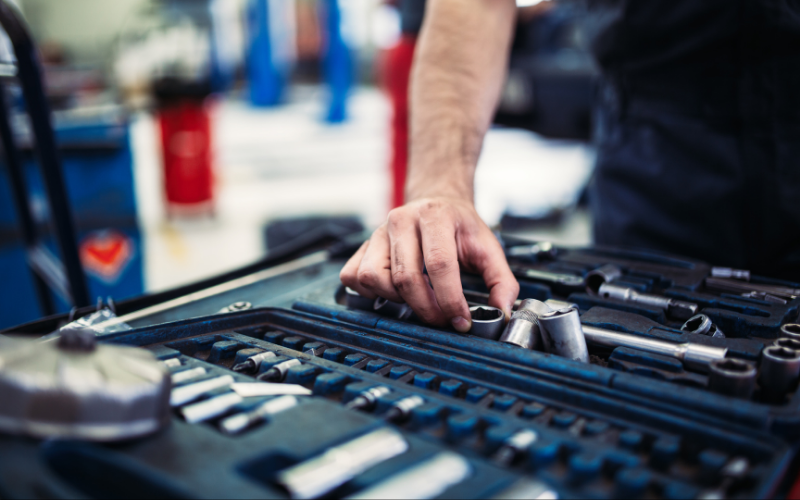 If you want to keep running your car safely and efficiently, making sure it is regularly serviced is incredibly important. It could also save you a lot of money in the long run!
In this guide, we will cover everything you need to know about servicing - from explaining what's involved in a full vehicle service, to why they are necessary.
Read on to find out everything you need to know about vehicle servicing.
What is a car service?
A car service is a routine maintenance check for your vehicle, which assesses everything from your engine's fluid levels to the general wear and tear of your car. A service would be undertaken by one of our highly trained technicians, providing full system and component checks, adjustments and parts replacement.
Unlike an MOT, which is a mandatory test to ensure that your car is roadworthy, a service follows detailed guidelines, set out by your vehicle's manufacturer and is designed to keep your car in peak condition. Regular servicing protects your new-car warranty and gives you peace of mind, should you wish to sell your vehicle on in the future.
Is servicing necessary?
At Bristol Street Motors, we're keen to help ensure that your vehicle running costs are kept to a minimum and believe that regular servicing and maintenance can help achieve this. Services aren't required by law, but are strongly recommended for keeping your car in roadworthy condition.
Performance
If you have your car regularly serviced, you're likely to see improved fuel efficiency, better handling and a smoother running engine. You'll also have peace of mind in knowing your vehicle is running optimally. It's almost guaranteed that regularly servicing your car will extend the life of your vehicle as well.
Safety
Regular car servicing not only ensures optimum vehicle performance and economy, it also covers key safety areas such as brakes, steering, suspension and tyres to prevent the failure or breakdown of expensive components.
Value
If you plan on selling your car in the future, a complete service history can add value, as buyers will be more confident in what they're actually purchasing. Keep up-to-date with your car's servicing and anyone interested will be assured the vehicle is worth its value.
How often do I need my car serviced?
Most manufacturers will recommend booking in your car for a full service at least once every 12 months, or every 12,000 miles, whichever comes first. However, it can be different from manufacturer to manufacturer, so we would advise that you check your vehicle's manual for guidance specific to your car.
How often you need your car serviced also depends on your car and your personal driving style. If you're a high-mileage driver (taxi drivers, for example), you might want to consider having your services more frequently to ensure it's always in tip-top condition.
What's the difference between an interim service, a full service and a major service?
Here at Bristol Street Motors, we can offer three levels of service that are designed to meet the needs of any car, no matter their age, condition or history:
Interim Service
Interim services are recommended every six months or 6,000 miles for drivers with high mileage (taxi drivers, for example). An interim service involves an oil change, oil filter replacement and checks of major components such as the steering, brakes, clutch, tyres, hoses and pipes.
Depending on the car and how easy it is to reach the necessary components, an interim service will take less time than a full service to complete. If several issues are found however, this may take longer.
Full Service
A full service is highly recommended at least once a year, or at 12,000 miles, and consists of a more thorough maintenance check of your car than an interim service.
A full service includes the changes and component checks covered by the interim service, with some further comprehensive checks of the engine, brakes, drive belts, plus the heating and cooling system. If needed, the air filter will be replaced and any fluids will be topped up.
Major Service
If it's been a little while since your last service and you feel your vehicle requires extra attention, choose a major service. These are recommended every two years or every 24,000 miles, and are more thorough again.
How much does a car service cost?
The price of a car service varies depending on your vehicle and the level of service you're looking to have. High-performance or more costly vehicles may demand a higher price.
At Bristol Street Motors, we pride ourselves in having open and transparent pricing; our invoices match quoted prices and all work is completed as agreed. We will provide a firm fixed quote on any required work, so that servicing your car can be simple and hassle-free - from booking to completion.
In addition, we offer a competitive Priority Service Plan to allow you to spread the cost over manageable, interest free monthly payments. With this, you'll benefit from a significant discount on our standard servicing costs - you could save approximately 25%. The plan also gives you a fixed price (interest free and inflation free) for the next five years. You can learn more about our Priority Service Plan, here.
Why come to Bristol Street Motors for your car's servicing?
Here at Bristol Street Motors, you and your car are made our priority. Expect quality, value for money servicing for every vehicle. Bristol Street Motors' service departments offer an honest and fair car service in partnership with Motor Industry Code of Practice.
You'll be guaranteed the highest standards of care and great prices when you service your car with us. All work carried out on your vehicle is done by fully trained and qualified technicians, using genuine branded quality parts with nationwide warranty.
Our car service receptionists have expert knowledge and can offer advice on car servicing and repairs. We also check for manufacturer recalls on our franchised vehicles and can arrange for a complimentary courtesy cars to suit your busy lifestyle.*
For more information, enquire online, give us a call, or pop down to your local Bristol Street Motors dealership. We're very happy to help.
*Subject to availability and Insurance administration fee.