Arsenal stars put Citroen Grand C4 Picasso through its paces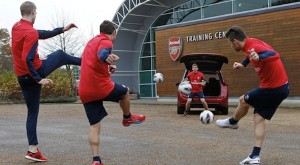 The Citroen Grand C4 Picasso has only just been released in the UK and has now been sent to the Emirates Stadium to be put to the test by some of Arsenal Football Club's brightest stars.

Olivier Giroud, Per Mertesacker, Santi Cazorla and Wojciech Szczesny all thoroughly examined the car's potential through a number of unique checks.

After opening the spacious doors on the side of the car, midfielder Cazorla demonstrated his skills by curling the ball beautifully through the model. Not only does the car have a wide entrance space to provide ease of access, it also provides an excellent use for free-kick practice!

The boot space of the car was also tested, as goalkeeper Szczesny took on the challenge of stopping a few balls entering the rear of the car as his teammates fired at will. However, it seems the available room was too much for Arsenal's number one to stop the balls from getting in!

Mertesacker, Arsenal's 6ft 6in central defender, also tested out the interior room of the car, with his huge frame just about fitting into the car as he laid down over the collapsed seating.

The German also joined striker Olivier Giroud in testing out the car's parking technology, with the players amazed as the car was able to manoeuvre itself into a parallel space, with the driver only needing to apply the power and the brakes.

James Parfett, communications director at Citroen UK, said: "It's brilliant to be exploring new ways of working with Arsenal as we're now in our seventh season as the Club's Official Automotive Partner. We had a lot of fun creating this film and we hope CitroŽn and Arsenal fans alike enjoy seeing the players and car in this new light."

The car has already proved successful since its launch, picking up both TopGear magazine's award for Family Car of the Year, as well as an accolade from Which? for MPV of the Year.

Available in seven seats, the model is perfect for those who need a vehicle to fit the entire family.

Posted by Sebastian Turkenburg