Citroen in the pink with new DS3 models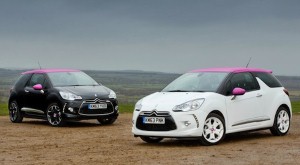 After the success of the DS3 supermini, Citroen has made the move to launch brand new special edition versions of the model to broaden its appeal even further.

It's latest variation comes with a pretty clear design signature, as the car boasts pink stylings throughout.

The car will be exclusive to UK customers and will be available to buy in January. It comes with a fuchsia pink roof, door mirrors and wheel centre caps, with the theme running into the interior.

A burst of colour is added to the dashboard and gear lever knob, making the DS3 just that little bit more quirky and fun.

However, drivers won't only benefit from a striking new design, the limited edition DS3 will also come with a number of new features.

The car can be purchased with for engine times and two trim levels, making the vehicle even more unique.

The DS3 DStyle Pink is available with either a VTi 120 petrol engine or an e-HDi 90 Airdream diesel powerplant, with the former delivering 49.6mpg and emitting 132g/km of CO2, while the latter provides drivers with 78.5mpg and emits just 95g/km of CO2.

In the DSport version, drivers can choose the THP 155 petrol or the e-HDi 115 Airdream diesel engine, delivering 48.7mpg and 74.4mpg respectively. The petrol version produces 135g/km of CO2, while the diesel emits 99g/km.

Furthermore, the car differs from the standard production version through the installation of new technologies, including a HiFi System upgrade and more speakers in the DStyle and a 'City Signature' pack in the DSport. This includes automatic headlights and wipers, rear parking sensors, heated and electric folding door mirrors and a front central armrest.