Citroen Technospace concept vehicle unveiled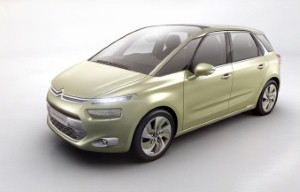 Citroen has shown off its new Technospace concept car, which is highly expected to end up being the basis of the next-generation C4 Picasso MPV.

According to the French vehicle giant, the likes of the Xsara Picasso, Grand C4 Picasso and C3 Picasso models have helped the firm build up "a real success story by asserting itself as one of the leaders in the compact MPV segment".

However, Citroen feels that it "is entering a new phase in the sector" with the unveiling of the Technospace concept vehicle.

Set to receive its world premiere at the 2013 Geneva Motor Show in March before being released onto UK roads in the second half of this year, the car has a number of eye-catching characteristics.

For one, the prototype vehicle will set a new benchmark where CO2 emissions ratings are concerned in the MPV sector of the motoring industry.

This is because the Technospace concept will emit just 98g/km, which has been achieved through a newly-constructed Efficient Modular Platform 2 unit that is packed with efficient architecture.

Drivers and passengers of the Citroen Technospace concept model are also assured comfort through previously unheard of interior proportions.

Despite the vehicle being designed as a compact sized MPV – it is just 4.43 metres in length and 1.83 metres in width – the Technospace still presents motorists with standard-setting interior space and 537 litres of boot capacity.

Of course, technology is one of the main aspects that motoring enthusiasts are eager to hear about when a new concept car is revealed.

The Citroen Technospace prototype does not disappoint in this regard, with in-car entertainment guaranteed through a full-touch driving interface complete with a high-definition 12-inch panoramic screen.

On the outside of what is rumoured to be the all-new C4 Picasso, drivers can also light up the road ahead in style with the vehicle's high-tech headlamps. These arrangements are complemented with dazzling 3D-effect tail lights.

More will be seen of the Citroen Technospace concept when it is given its official debut at this year's Geneva Motor Show, which opens its doors to the public on March 7th.