Citroen unveils Lacoste concept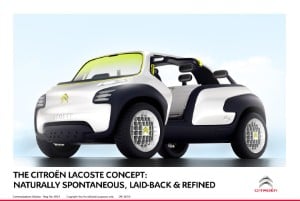 Posted by Craig Salter

Citroen has teamed up with apparel company Lacoste to design a new concept car.

The Citroen Lacoste concept will be unveiled in full at the Paris Motor Show, but details of the model have been released by the manufacturer.

Featuring a quirk sports aesthetic and high waistline, the new car boasts golf ball-style alloy wheels and broad cut-outs for an open-air experience.

Its three-cylinder petrol engine is economical and offers a high level of performance for a small car.

Fashion is represented through unique style features, such as seatbelt anchorage points which include neck lines similar to those found on polo shirts.

Citroen states: "The Citroen Lacoste plays with a range of colours and materials. For fun, simplicity and elegance, the emphasis is on bold, traditional colours like white and deep blue."

Another feature that could impress motorists in the market for a new car is the Lacoste's two-spoke steering wheel, which folds away against the dashboard for greater access to the front bench.

In other news, the Citroen DS3 appears in the video for new single 'Broken Arrow' by pop singer-songwriter Pixie Lott.